Ubiquiti mPort

IP Gateway Device for mFi Networks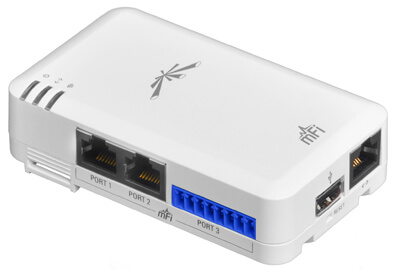 Sorry, this product is no longer available, Please contact us for a replacement.
Overview:
The mPort supports up to 3 sensors that can be easily attached through standard Cat5 Ethernet cable and features built-in WiFi and Ethernet to attach the sensors to the IP network. Once connected, the mFi controller software enables complete control over all connected sensors. The mPort has two mFi RJ45 connectors and a terminal block connector.
Built-in WiFi and Ethernet to connect to the IP network
2 mFi RJ45 connectors
1 Terminal block connector
mFi Technology

mFi™ is a Machine-to-Machine management system from Ubiquiti Networks, Inc. The mFi hardware can be managed and monitored from the mFi Controller software. The mFi Controller software allows you to create rules that trigger actions based on data from your mFi sensors. For example, motion detection could turn a light on, or a high temperature reading could trigger a fan. The mFi platform is compatible with third-party devices, making the options unlimited!
Plug and Play Installation - Use standard Ethernet cable to connect machines and sensors. Use WiFi to seamlessly connect mFi nodes to your IP network. Unlimited device scalability.
Powerful Functionality - Create powerful relationships between sensors, machines, and powered devices.
Cloud and Mobile Support - Access multiple mFi networks from any remote location through a web browser. New devices can instantly be discovered and provisioned through the cloud.
Sophisticated User Experience - From auto-detection of machines through intuitive and powerful rule creation, the mFi Controller transforms a machine network into an automated symphony.
Features:
Easy Bridging to IP Network
The mPort™ instantly bridges any serial connection, sensor or other device to your Ethernet or Wi-Fi network.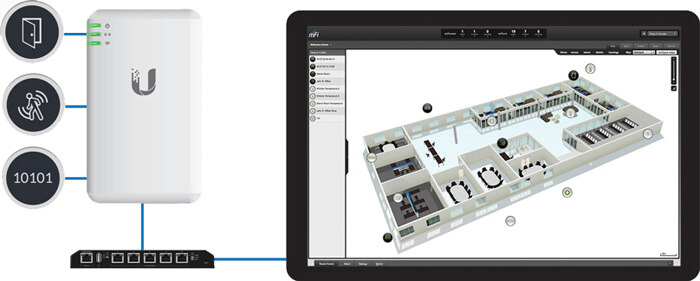 mFi Sensors
Ubiquiti offers a wide selection of sensors including motion, temperature, current and door/window sensors. Connect sensors to the mPort™ to create an intelligent mFi network for machine management and smart building automation.

Advanced Management Software
Make buildings smarter and more efficient using the intuitive UI and powerful features of the mFi Controller software.

Simple Setup
Easily set up devices by creating rules to control sensors and machines depending on schedules or conditions.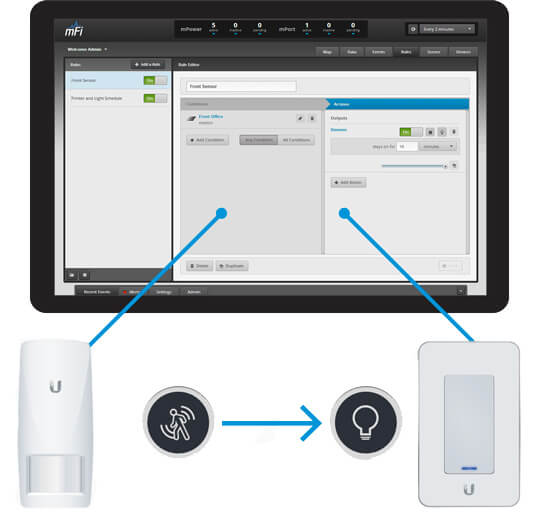 Product Views: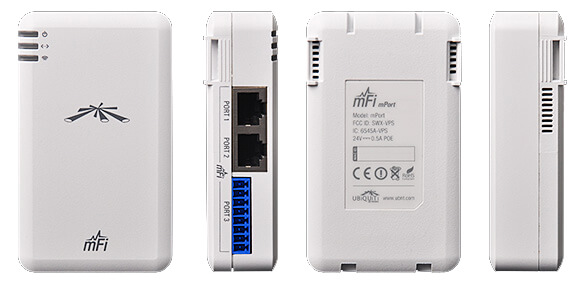 Side View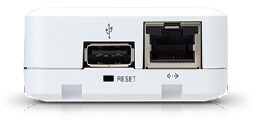 Bottom View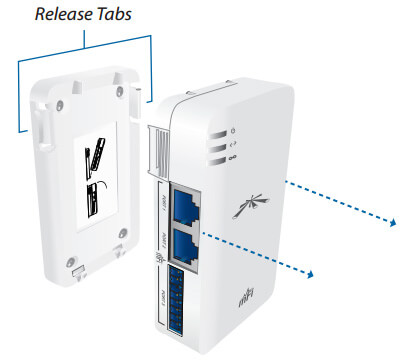 Specifications: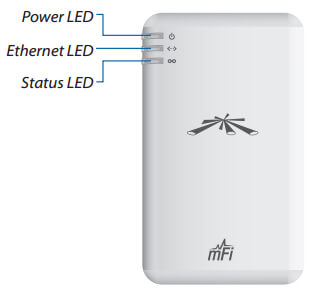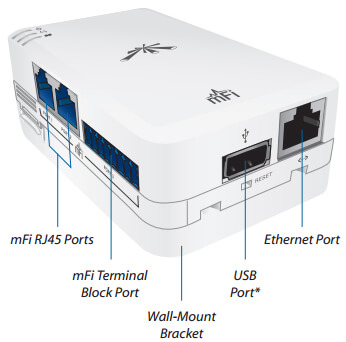 mPort Specification
Dimensions
100 x 60 x 27.5 mm (H x W x D)
100 x 60 x 36.5 mm (with Bracket)
Weight
4.2 oz (with Bracket)
Power Supply
24V, 0.5A Surge Protection
Integrated PoE Adapter (Included)
Max. Power Consumption
3W
Networking Interface
(1) 10/100 Ethernet Port
Ports
(2) mFi RJ45 Ports
(1) mFi Terminal Block Port
WiFi Standards
802.11b/g/n
Memory
16 MB RAM, 8 MB Flash
LEDs
3 LEDs (Power, Ethernet, Status)
Mounting
Wall-Mount Bracket (Included)
Operating Temperature
-10° to 70° C
Operating Humidity
5 to 80% Condensing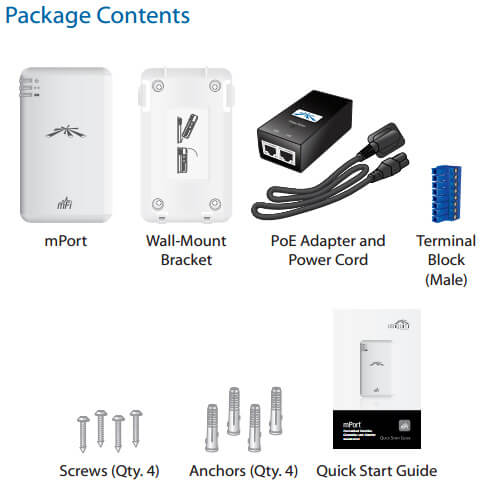 Software:


mFi Controller Software
The mFi Controller software is designed to work with the Ubiquiti Networks mFi product line and third party devices. The software interface design is based on the popular and easy-to-use UniFi™ software interface. The mFi Controller software allows you to manage your mPort, mPower, mSensor, and third-party devices from your web browser.

Packed with Features
Configurable Maps
Remote Control Capability
Events and Alerts
Advanced Analytics
Scheduling
Powerful Rule Generation
Machine Auto Detection
The mFi controller will auto-detect and provision mFi devices and connected machines on the network.
Advanced Analytics
Powerful graphing with user-defined views provide in depth analysis of the machine network.
Events and Alerts
User defined event recording and alerts provide feedback on the machine network activity.
Remote Control Capability
Remotely control the power and functionality of the machine network.
Remote Terminal Support
Terminal command windows support unlimited machine network scalability through single interface.
Advanced Rule Creation
Create powerful relationships and automation in your machine network with complete freedom.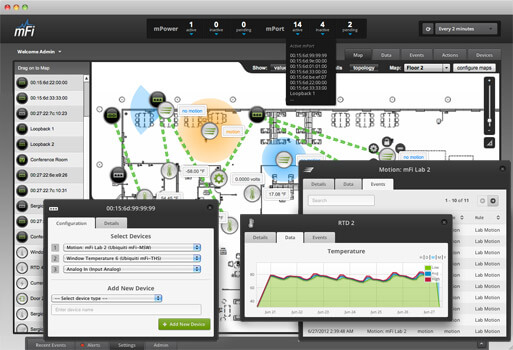 Maps — Upload map images of your location(s) for a visual representation of your machine network.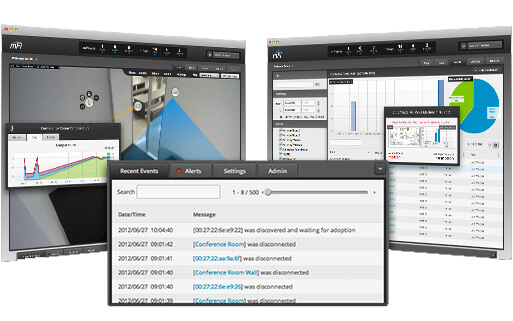 Customizable Data Views — Display information on your machines and sensors in a customizable view with selected times and date ranges.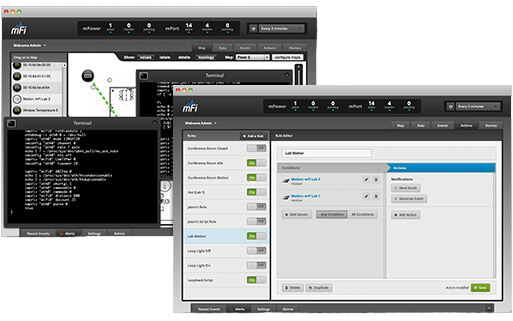 Advanced Rule Creation — Create powerful relationships and automation in your machine network with complete freedom.
System Requirements
Microsoft Windows 7/8, Windows Vista, Mac OS X, or Ubuntu Linux 12.04 or later 64-Bit Operating System
Web Browser: Mozilla Firefox, Google Chrome, or Microsoft Internet Explorer 8 (or above)
Java Runtime Environment 1.6 (1.6.0_26 or above recommended)
Flash Player 10
Minimum 2 GB RAM is highly recommended
Miscellaneous: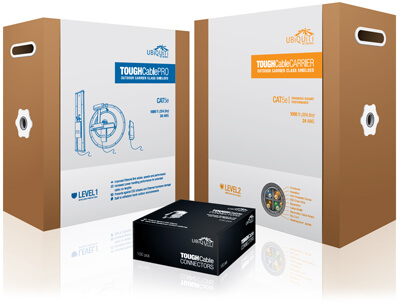 Protect your networks from the most brutal environments with Ubiquiti's industrialgrade shielded ethernet cable, TOUGHCable.
Increase Performance - Dramatically improve your ethernet link states, speeds, and overall performance with Ubiquiti TOUGHCables.
Extreme Weatherproof - TOUGHCables have been built to perform even in the harshest weather and environments.
ESD Damage Protection - Protect your networks from devastating electrostatic discharge (ESD) attacks.
Extended Cable Support - TOUGHCables have been developed to have increased power handling performance for extended cable run lengths.
Bulletproof your networks
TOUGHCable is currently available in two versions: PRO Shielding Protection and CARRIER Shielding Protection.
TOUGHCable PRO is a Category 5e, outdoor, carrier-class shielded cable with an integrated ESD drain wire.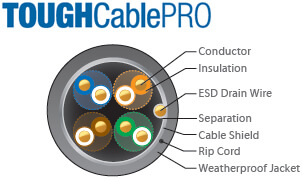 TOUGHCable CARRIER is a Category 6, outdoor, carrier-class shielded cable that features an integrated ESD drain wire, anti-crosstalk divider, and secondary shielding. It is rated to provide optimal performance on Gigabit Ethernet networks.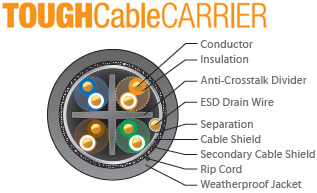 Additional Information:
24 AWG copper conductor pairs
26 AWG integrated ESD drain wire to prevent ESD attacks and damage
PE outdoor-rated, weatherproof jacket
Multi-layered shielding
Available in lengths of 1000 ft (304.8 m)
TOUGHCable Connectors
Specifically designed for use with Ubiquiti TOUGHCables and available in 100-pc. bags, TOUGHCable Connectors protect against ESD attacks and Ethernet hardware damage while allowing rapid field deployment without soldering.
ESD attacks are the leading cause for device failures. The diagram below illustrates the areas vulnerable to ESD attacks in a network.

By using a grounded Ubiquiti Power over Ethernet (PoE) Adapter along with Ubiquiti TOUGHCable and TOUGHCable Connectors, you can effectively protect against ESD attacks.