Ubiquiti airFiber 5

5 GHz Full Duplex Point-to-Point Gigabit Radio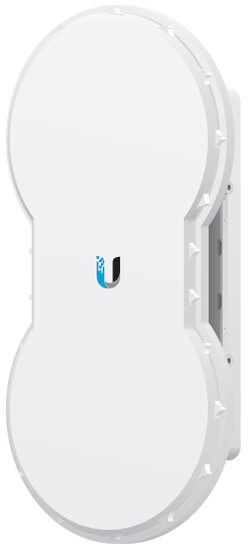 Ubiquiti airFiber
airFiber Series
airFiber, 5GHz Upper band
#AF-5U
Our Price: $999.00
Click here to jump to more pricing!
Overview:
There are two airFiber models available for the 5 GHz spectrum. The model, AF5, features the popular mid-band frequencies, which are freely used in many parts of the world.
The high-band model, AF5U, which can operate in the 5.7 - 6.2 GHz bands, has robust filtering to enable co-location with devices operating in the lower 5 GHz bands while allowing operation at a higher output power in many areas of the world.
Advanced Antenna System
Operating in the 5GHz band, airFiber 5 builds on the innovations in airFiber 24 to enable speeds up to 1Gbps and introduces new eXtended Range Technology (xRT) to provide 100+Km maximum range.
Revolutionary Wireless Technology
Introducing airFiber, a truly revolutionary Point-to-Point wireless platform from Ubiquiti Networks™. Housed in a compact, highly efficient form factor, airFiber delivers amazing wireless gigabit+ performance, low latency, and long range. airFiber ushers in a new era in price-disruptive wireless technology ideal for carrier backhaul, building-to-buildingenterprise use, or public safety applications.
Efficient by Design
Every detail of airFiber was designed and engineered by the Ubiquiti R&D Team. From the silicon chip up to the innovative split-antenna architecture, the Ubiquiti R&D Team created airFiber to deliver superior throughput with efficiency. airFiber was pupose-built to create a high performance backhaul.
Plug and Play Deployment
Based on Ubiquiti's innovative and intuitive airOS™, the airFiber Configuration Interface enables quick configuration and deployment. With installation efficiency in mind, the mechanical design allows easy installation by one person. A two-person installation crew can effectively install and align an airFiber link.
To fine-tune the alignment, the received signal levels can be conveniently accessed via any of these methods:
airFiber LED display
airFiber Configuration Interface
audio tone feature
Designed for Freedom
airFiber operates in worldwide, license-free 5 GHz frequencies. Anyone around the world can purchase and operate airFiber without any special permits, paperwork, or added licensing costs. Users are free to locate, deploy, and operate airFiber practically anywhere they choose (subject to local country regulations).
Built for Speed and Range
airFiber delivers gigabit performance at 1.2+ Gbps for airFiber AF-5/AF-5U, 1.4+ Gbps for airFiber AF-24, and 2 Gbps for airFiber AF-24HD. To put this in perspective, airFiber can transmit a 100 MB file in less than a second. Rivaling common broadband providers, airFiber download speed is up to 100x faster. With speed and throughput surpassing conventional wired backhauls, airFiber prevails over expensive and labor-intensive wired infrastructures.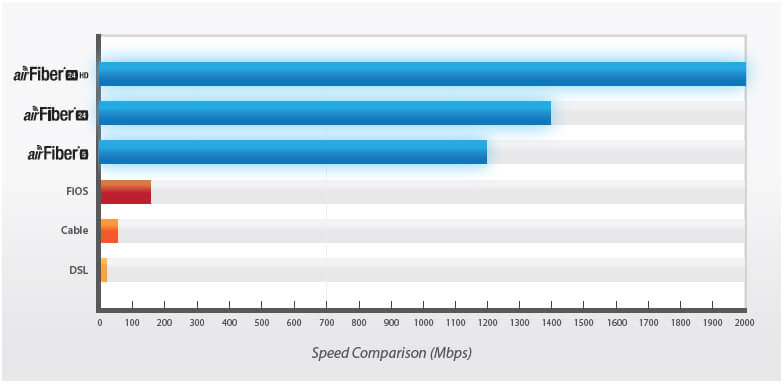 airFiber is built for long-range use: up to 13+ km for airFiber AF-24, up to 20+ km for airFiber AF-24HD, and up to 100+ km for airFiber AF-5/AF-5U, which launches the innovative xtreme Range Technology (xRT) feature.
airFiber backhauls do not share the security risks associated with wired backhauls. The long distances of wired backhauls are vulnerable to copper theft, fiber optic damage, vandalism, and accidental breakage. With airFiber, only the installation points of the airFiber links need to be secured.
Innovative Proprietary Modem Technology
Ubiquiti's innovative proprietary modem technology was purpose-built to address the specific challenges of outdoor, PtP (Point-to-Point) bridging and high-performance network backhauls. Every aspect of the radio has been carefully simulated and designed to optimize range, speed, and latency performance in the harshest RF noise environments.
Synchronous Data Transmission and Reception
Conventional wireless standards impose a latency by having to receive a packet before a packet is transmitted. airFiber can transmit data synchronously without any wait time. airFiber features traditional TDD and FDD modes of operation in addition to the proprietary Hybrid Division Duplexing (HDD) mode, which provides a breakthrough in range and spectral efficiency performance.
Based on the ranging algorithm built into the air protocol, the airFiber radios use patent-pending HDD technology to calculate the propagation delay and know when each radio can transmit and receive, so they send packets in precise synchronization. Packet transmission latency is virtually eliminated.
Innovative Dual-Antenna Architecture
airFiber features a dual-independent, 2x2 MIMO, high-gain reflector antenna system. Separate transmit (TX) and receive (RX) antennas help extend link budgets by eliminating the extra RF losses caused by the switches or duplexers required in systems with common TX/RX antennas.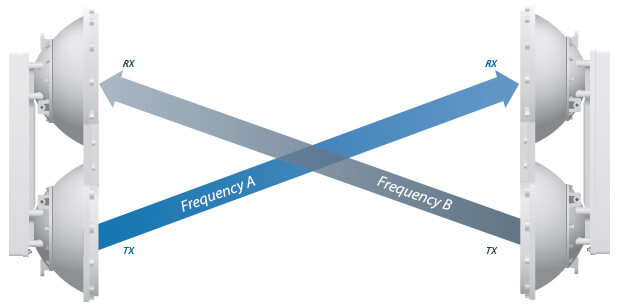 airFiber AF5/AF5U Radios in Full-Duplex Mode
Each airFiber radio has two complete antenna systems and a mechanical back-plane that are constructed as a one-piece "monocoque" molding – a radical departure from industry practice. "Monocoque" means that the exterior skin supports the structural load of airFiber hardware. Due to its single-piece, injection-molded architecture, airFiber adds lightness in weight and affordability to its list of advantages.
Network Management
airFiber supports a variety of features to help you manage your network:
Network management options - A choice between the greater security of out-of-band management and the convenient of in-band management.
SNMP support - Full SNMP support to aid in network management.
Local and remote airFiber status information - Available on the Main tab of the airFiber Configuration Interface.
Features:
Innovative Antenna Design
The high-isolation, dual-antenna design is ideal for robust performance in the harshest RF noise environments.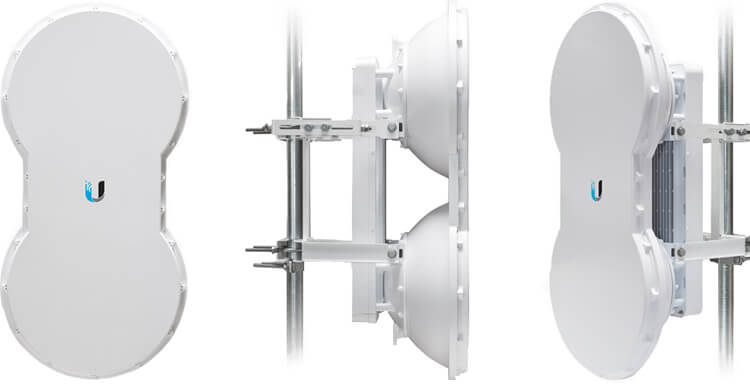 Revolutionary Performance
Surpassing conventional wired backhauls, the airFiber 5 delivers real throughput of up to 1.0+ Gbps.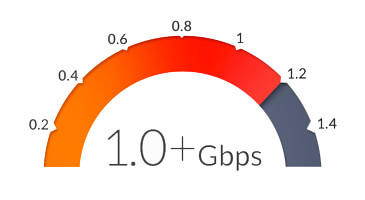 Long-Range Links: 100+ km
Designed to be a high-performance backhaul, the airFiber 5 performs at a range of up to 100+ km.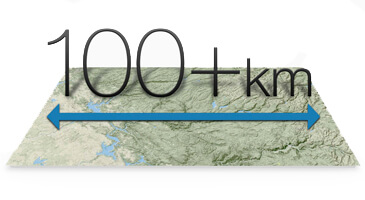 Low-Latency Carrier Backhaul
The airFiber 5 supports FDD (Frequency Division Duplexing) in full-duplex mode for < 1 ms latency, resulting in increased efficiency for carrier-class network backhauls.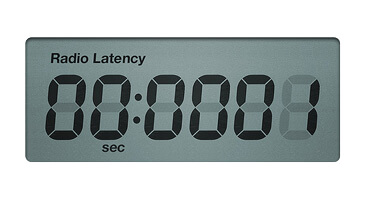 5 GHz Unlicensed Band
The airFiber 5 operates in worldwide, license-free, 5 GHz frequencies. Users can deploy airFiber5 almost anywhere they choose (subject to local country regulations).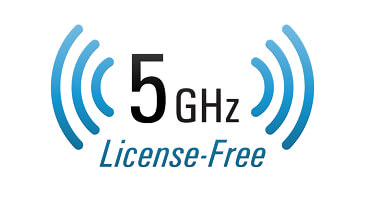 Radio Alignment Display
Introduced on airFiber AF5/AF5U, the Radio Alignment Display (RAD) makes aiming quicker and easier. The dual, calibrated signal strength indicators display the actual signal strength on the local and remote airFiber radios in real time. The comprehensive array of radio status indicators display the following:
GPS synchronization status
Master/slave mode
RF link status
RF overload warning
Current modulation mode
Link activity and speed for wired management and data ports
Benefits:

Addressing the Under-served
airFiber core networks backbones can be instantly and cost-effectively deployed anywhere, bringing Internet deep into the unserved areas of the world.
Plug and Play Installation
Utilizing precision mounting hardware combined with a dynamic RSSI indicator, airFiber can be easily deployed by a single installer. Integrated GPS receivers automatically calculate position and timing parameters in the background, providing a true plug and play installation experience.
Hybrid Division Duplex (HDD)
HDD provides the best of both worlds — latency performance of Frequency Division Duplex (FDD) with the spectral efficiency of Time Division Duplex (TDD).
Superior Processing
Ubiquiti Networks introduces our proprietary INVICTUS™ core communications processing engine. The speed, power, and efficiency of this integrated circuit enhances the performance of airFiber AF5/AF5U.
Efficient Use of 5 GHz Band
airFiber AF5/AF5U features 1 MHz center channel resolution with market-leading Power Envelope Tracking technology. airFiber AF5/AF5U accurately and continuously controls transmit power relative to the band edge. The power level automatically tracks to optimize performance near band edges, allowing you to choose the part of the band with the least interference.
Long-Range Links
Newly developed for airFiber AF5/AF5U, the patent-pending xRT feature uses an innovative, adaptive multi-channel coding scheme to enhance radio transceiver performance, thereby maximizing your link budget and spectrum utilization – while still maintaining regulatory compliance. This results in links that can span distances from 10 m up to 100+ km.
Quick and Easy Installation
The unique sliding-clamp design of airFiber AF5/AF5U allows mounting hardware to be pre-assembled prior to installation – no more dropped screws at the top of the tower. As an added convenience, the drop-in cradle mount design allows the installer to attach mounting hardware to the pole without having to support the weight of the airFiber radio during installation.
Product Views: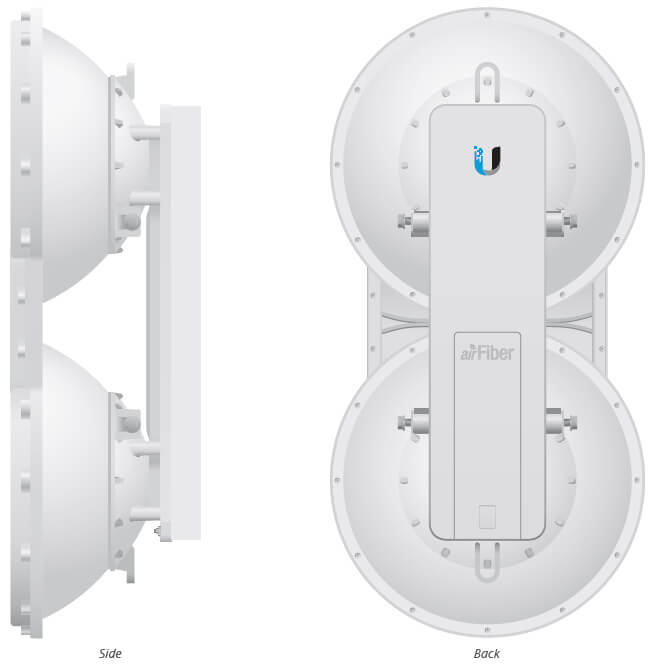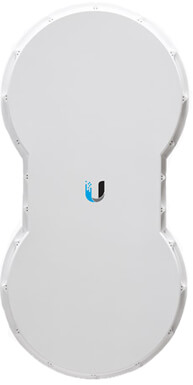 Front View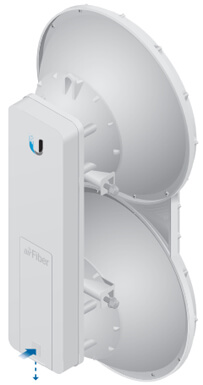 Back View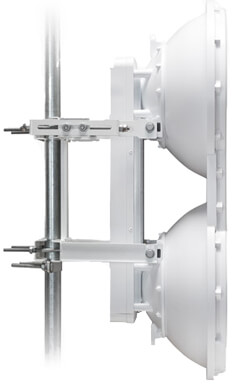 Side View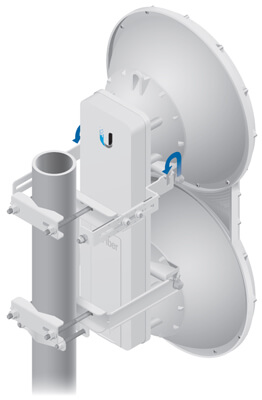 Back on Pole Mount
Specifications: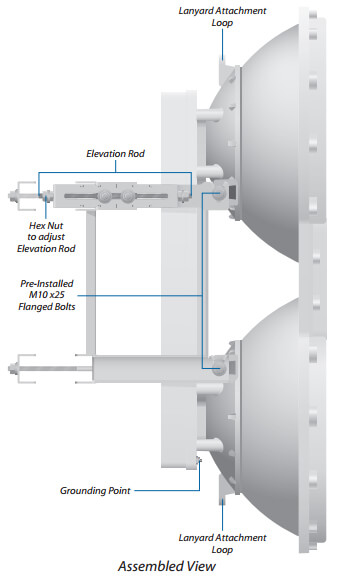 airFiber AF5/AF5U Specification
Operating Frequency
AF5:

FCC 15.247, 15.407, IC RSS 210: 5470 - 5600 MHz, 5650 - 5850 MHz
ETSI EN 301 893, EN 302 502: 5470 - 5875 MHz
Other Regions: 5470 - 5950 MHz

AF5U:

FCC 15.247, IC RSS 21: 5725 - 5850 MHz
ETSI EN 302 502: 5725 - 5875 MHz
Other Regions: 5725 - 6200 MHz

Dimensions
938.4 x 468.4 x 281.4 mm (36.94 x 18.44 x 11.08 in)
Weight
16 kg (35.27 lb) Mount Included
Max. Power Consumption
40W
Power Supply
50V, 1.2A PoE GigE Adapter (Included)
Power Method
Passive Power over Ethernet (42-58VDC)
Certifications
CE, FCC, IC
Wind Loading
194 lbf @ 125 mph
Wind Survivability
125 mph
Mounting
Pole Mount Kit (Included)
Operating Temperature
-40 to 55°C (-40 to 131° F)
LEDs

(12) Status LEDs:

Data Port Link/Activity
Data Port Speed
Management Port Link/Activity
Management Port Speed
GPS Synchronization
Master/Slave
Link Status
Modulation Mode 0.25x to 4x, 6x, 8x, Overload
Remote and Local Displays (Calibrated Signal Strength)

Interface
Data Port
(1) 10/100/1000 Ethernet Port
Configuration Port
(1) 10/100 Ethernet Port
Auxiliary Port
(1) RJ-12, Alignment Tone Port
Interface
Maximum Throughput
1.0+ Gbps
Maximum Range
100+ km (Dependent on Regulatory Region)
Packets per Second
1+ Million
Encryption
128-Bit AES
Forward Error Correction
164/205
Cyclic Prefix
1/16 Fixed
Uplink/Downlink Ratio
50% Fixed
Radio Frame Synchronization
GPS
Dynamic Frequency Selection
AF5: CE, FCC/IC
AF5U: CE, (FCC/IC Not Applicable)
airFiber AF5/AF5U Radio Frequency
GPS
GPS Clock Synchronization
Transceiver
EIRP
~50 dBm (Dependent on Regulatory Region and Frequency Band)
Frequency Accuracy
±2.5 ppm without GPS Synchronization
±0.2 ppm with GPS Synchronization
Channel Bandwidth
50 MHz
Modulation
256QAM MIMO
64QAM MIMO
16QAM MIMO
QPSK MIMO
½ Rate QPSK xRT
¼ Rate QPSK xRT
Integrated Split Antenna
TX Gain
23 dBi
RX Gain
28 dBi
Beamwidth
6°
Front-to-Back Ratio
70 dB
Polarity
Dual-Slant Polarization
Cross-Polarity Isolation
> 28 dB
* FDD = (2) 50 MHz channels and TDD = (1) 50 MHz channel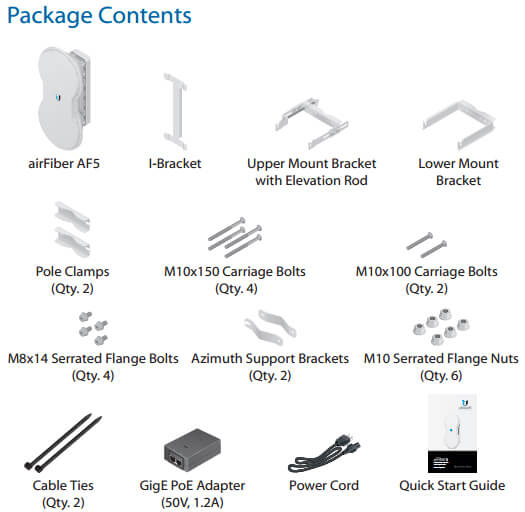 Receive Sensitivity:
airFiber AF5/AF5U Receive Sensitivity
Spatial Streams
Modulation
Sensitivity
(10 MHz)
Sensitivity
(20 MHz)
Sensitivity
(40 MHz)
Sensitivity
(50 MHz)
FDD Capacity*
TDD Capacity*
8x
256QAM
-70 dBm
-67 dBm
-65 dBm
-64 dBm
1024 Mbps
512 Mbps
6x
64QAM
-77 dBm
-74 dBm
-72 dBm
-71 dBm
768 Mbps
384 Mbps
4x
16QAM MIMO
-84 dBm
-81 dBm
-79 dBm
-78 dBm
512 Mbps
256 Mbps
2x
QPSK MIMO
-90 dBm
-87 dBm
-85 dBm
-84 dBm
256 Mbps
128 Mbps
1x
½ Rate QPSK xRT
-93 dBm
-90 dBm
-88 dBm
-87 dBm
128 Mbps
64 Mbps
¼x
¼x QPSK xRT
-95 dBm
-93 dBm
-92 dBm
-91 dBm
32 Mbps
16 Mbps
Design Guide:
Selection of Installation Site
The airFiber AF5/AF5U, referred to as the AF5 in this Design Guide, features unique functionality that requires you to be cognizant of the installation environment.
For best performance, you must install the AF5 as high up as possible, with a line of sight free from obstructions. This is especially true in FDD (Frequency Division Duplexing) mode, as there is a requirement to maximize channel/spectrum reuse. Any objects in front of or near the front of the AF5 can have a significant impact on overall performance. The AF5 should be installed 1 m (3.3 ft) below the highest point of the structure to reduce the risk of a lightning strike. When the AF5 must be installed above a metallic surface like a corrugated flat roof or water tower, then you should ensure that the AF5 is located more than 3 m (10 feet) above the metal/reflective surface.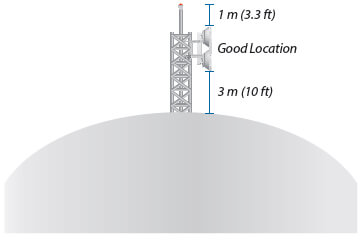 Close-up of Installation on Top of Water Tower
What is generally true for cellular installations is true for the AF5. You should mount the AF5 where it can see no reflections in the near field, so we recommend the following types of mounting sites:
Perimeter mounting on a water tower/structure (best)
Mounting near the edge of the top of a structure
Mounting on an elevated mast or tower
Radios that are mounted anywhere near the surface of a roof or the top of a water tower can be significantly affected by reflections. FDD is more susceptible to the elements of a deployment environment than TDD (Time Division Duplexing) is.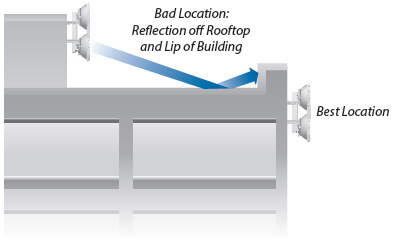 Close-up of Installation on Rooftop of Building
Typical Deployment Scenarios
Good and bad examples of deployments are depicted in this section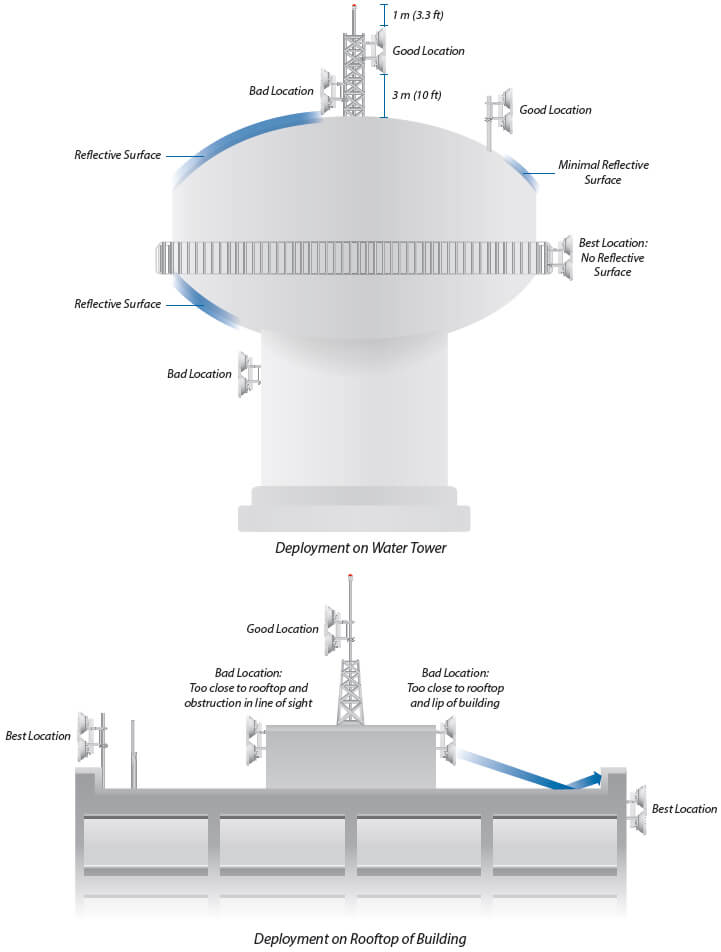 Frequency Configuration
FDD will be most useful in situations that have plenty of spectrum available and will show the greatest benefit on shorter-range links. For optimal performance, you should plan out channel pairs that have maximum frequency separation. Since the AF5 uses sophisticated data processing algorithms and a special antenna structure to eliminate the need for a pre-configured duplexing filter, you should space the 2 duplex channels at either end of the spectrum near the band edges for maximum-range applications.
Generally speaking, you can configure shorter-range links for less channel separation between uplink and downlink. You should also use the narrowest channel bandwidth that supports the intended link capacity. This conserves valuable frequency resources and also maximizes link budgets.
Ubiquiti Networks™ is currently developing a configuration tool, the airFiber5 Link Calculator*, that will guide you on how to best minimize bandwidth and power/interference based on the specific requirements of your installation.
Transmit Power Configuration
The AF5 allows for a very high degree of flexibility in configuring transmit power, supported constellations, channel bandwidths, and duplexing modes. Because of the number of configuration options, refer to this guideline as you customize your AF5 configuration:
Depending on the country or region, the AF5 may be configured to support maximum transmit power as high as +50 dBm EIRP. Power levels in excess of approximately +43 dBm will start to affect the maximum supported constellation.
| TX Power (dBm EIRP) | Supported Constellation |
| --- | --- |
| 43 | 256QAM |
| 45 | 64QAM |
| 47 | 16QAM |
| 50 | QPSK |
For example, if you have a relatively short-range link and you need to support a maximum constellation of 256QAM, then configure the AF5 for less than +43 dBm EIRP.
To minimize interference, you should use the lowest practical power setting that supports the intended target constellation for a given distance. Looking at the sensitivity values for the given channel bandwidth, you should target a receive signal value approximately 3 to 6 dB higher than the sensitivity threshold.
| | 10 MHz | 20 MHz | 40 MHz | 50 MHz |
| --- | --- | --- | --- | --- |
| 8x | -70 dBm | -67 dBm | -65 dBm | -64 dBm |
| 6x | -77 dBm | -74 dBm | -72 dBm | -71 dBm |
| 4x | -84 dBm | -81 dBm | -79 dBm | -78 dBm |
| 2x | -90 dBm | -87 dBm | -85 dBm | -84 dBm |
| 1x | -93 dBm | -90 dBm | -88 dBm | -87 dBm |
| Ultimate | -95 dBm | -93 dBm | -92 dBm | -91 dBm |
To obtain the greatest range performance, you may want to explore power settings above +43 dBm since the longest-range links will be limited to the lower-order constellations. The best possible range will be achieved with a combination of maximum power level, narrowest channel bandwidth, lowest-order constellation, and TDD.
Power Balance Optimization for FDD
In the default state, the AF5 has this configuration:
TX power: +40 dBm
Channel bandwidth: 10 MHz
Duplexing mode: TDD
To optimize throughput with maximum frequency reuse:
Aim the AF5 using the factory default settings and TDD.
Allow the AF5 to automatically rate-adapt.
Configure the AF5 for FDD operation.
Check the modulation rate and capacity indicators for asymmetry.
You may notice significant asymmetry. If you do, then this could be due to a poorly aimed AF5 or an AF5 that is operating in some sort of reflective Fresnel environment. Ensure that the AF5 is correctly aimed and free of any potential reflections before proceeding to the next procedure.
To optimize both ends of the link for the best symmetry:
Test for a local desense condition (possibly due to a reflection or other disturbance). Begin with the AF5 that is receiving the lowest RX capacity reading, and decrease the TX power on that AF5 by 1 dB.

Check if there is any increase in the RX capacity at the AF5.
Watch for decreases in the TX capacity of the AF5.

Perform step 1 iteratively to find out if there is any RX capacity sensitivity to the local TX power level.
If this condition persists, try the following:

Run the lowest transmit power that still allows for the best balance of performance on both ends of the link.
Increase the FDD frequency separation and repeat the optimization process. (In general you should run the lowest power possible to meet the data rate requirements for the link.)
This link symmetry procedure should be repeated on the opposite end of the link to test for desense on the other side.
If desense is not an issue, then try this method to mitigate the asymmetry: Slightly increase the transmit power on the opposite end of the link. (Note: This should be tried only after you rule out local desense first.)
For the best possible FDD performance, use as much frequency separation as possible to minimize external coupling of energy.
* The airFiber5 Link Calculator will be available as a new tool in an upcoming firmware update. Check community.ubnt.com/airfiber for firmware announcements.
Technology:
airFiber Radio
Superior Throughput with No RF Losses
Innovative Zero IF Radio
Flexible FPGA Architecture
Revolutionary Media Access Control
Multiple Input, Multiple Output Spatial Multiplexing
Time and Bandwidth Resource Management
Superior Throughput with No RF Losses
Starting with the silicon chip, the Ubiquiti Networks™ Research and Development (R&D) team created airFiber, a sophisticated system robust enough to perform in the harshest RF noise environments. Designed for high-performance backhauls and outdoor, PtP (Point-to-Point) bridging, airFiber AF24 efficiently delivers up to 1.5+ Gbps, aggregate throughput. Systems for millimeter-wave frequencies typically experience RF (Radio Frequency) losses, which occur when part of the RF is lost in the switches and filters. The R&D team eliminated such RF losses, so the link budget is robust and airFiber has better noise figure and higher transmit power efficiency.
Innovative Zero IF Radio
Designed with two multiplexed transmitters and two multiplexed receivers, the airFiber radio is Zero IF (Intermediate Frequency); it is a direct-conversion radio that generates and decodes the received signal at baseband, so there is no intermediate frequency and virtually no signal loss between the radio and antenna. The R&D team invented numerous algorithms to control the amplitude and phase. The end results are excellent spectral shape and freedom from spurious responses that stem from conversion by-products.
Flexible FPGA Architecture
The highly flexible FPGA (Field Programmable Gate Array) architecture can be further field-optimized through firmware upgrades. airFiber features both sophistication and reprogrammability; you can add features as they become available and enhance system performance through firmware upgrades.
Revolutionary Media Access Control
The R&D team created a new MAC (Media Access Control), which is the link between the radio control (FPGA) and physical network. All real-time packet processing is placed in dedicated parallel hardware rather than in software. All real-time functions related to digital signal processing and coding are handled in fully custom hardware that is reconfigurable, so the MAC is extremely powerful while retaining the inherent flexibility of a software-defined system.
Multiple Input, Multiple Output Spatial Multiplexing
airFiber incorporates an OFDM (Orthogonal Frequency Division Multiplexing) system to use linear, 2x2, MIMO (Multiple Input, Multiple Output) spatial multiplexing, which has two benefits: enhanced spectral efficiency and the ability to maintain reliable links in poor propagation environments.
Time and Bandwidth Resource Management
airFiber automatically scales its modulation based on channel quality but has the ability to be reconfigured from a time/bandwidth perspective to enable the best possible performance in a wide variety of deployment scenarios.
Dual-Antenna Architecture
Innovative Dual-Antenna Architecture
Synchronous Data Transmission and Reception
Robust Mechanical Assembly
Innovative Dual-Antenna Architecture
The Ubiquiti Networks™ R&D (Research and Development) team created airFiber for outdoor PtP (Point-to-Point) bridging and high-performance network backhauls. The team invented a market-leading, dual-antenna architecture. Each airFiber unit features a radical departure from industry practice: a one-piece "monocoque" molding comprising two complete antenna systems and a mechanical back-plane. "Monocoque" means that the exterior skin supports the structural load of the airFiber hardware; this same concept is used to construct lightweight, rigid structures, such as those used for Formula One race cars. Due to its single-piece, injection-molded architecture, airFiber adds lightness in weight and affordability to its list of advantages.
Synchronous Data Transmission and Reception
If airFiber had been constructed using conventional methods and individual mechanical parts, collimation distortion (the two antenna beams being skewed with respect to one another) would likely have a negative impact on link budgets and overall system performance. With airFiber's innovative, one-piece assembly, the two antennas can be aimed at exactly the same point in space with a high degree of accuracy and repeatability. airFiber features a dual-independent, 2x2 MIMO, high-gain reflector antenna system. On each airFiber unit, the smaller antenna on the bottom transmits, and the larger antenna on the top receives. The main lobe of the receiver is more narrow than that of the transmitter, in both azimuth and elevation, so peak performance requires precise aiming and fine-tuning of the alignment between the airFiber units during installation.
Robust Mechanical Assembly
An independent lab has tested the airFiber mechanical assembly to meet MIL-STD-810G, a rigorous United States military standard that defines a variety of challenging environmental conditions. The airFiber mechanical assembly has also undergone vibration testing using an extended version of IEC 60068-2-6, an environmental standard of the IEC (International Electrotechnical Commission). By industry standards, the typical test looks for no observable mechanical failures after 3 hours of sinusoidal sweeps. The airFiber R&D team set the bar higher for airFiber, which passed an extended, 3-axis test that ran for 9 hours to ensure no mechanical failures. (Extended 9-hour testing is often done for MIL-STD compliance.)
Software:

Loaded with Powerful Features
airOS F is an intuitive, versatile, highly developed Ubiquiti firmware technology that resides on airFiber. It is exceptionally intuitive and was designed to require no training to operate. Behind the user interface is a powerful firmware architecture which enables hi-performance network backhauls.
airOS F Tools
Speed Test
Antenna Alignment
Device Discovery
Site Survey
Ping
Traceroute
airOS F Integrated Technologies
airFiber's purpose-built hardware provides superior wireless performance, higher capacity, and lower latency. Unlike standard WiFi protocols, Ubiquiti airFiber's Hybrid Division Duplex (HDD) provides the best of both worlds — latency performance of Frequency Division Duplex (FDD) with the spectral efficiency of Time Division Duplex (TDD).
Wireless Modes
Wireless Network Configuration
Transmit Frequency
Receive Frequency
Output Power
Modulation Rate
Automatic Modulation Rate Adaptation
Duplex: Half or Full
High/Low RX Gain
Wireless Security: AES-128
Network Mode
Transparent Layer 2 Bridge
Network Configuration
In-Band Management
Management VLAN
Management
Automatic check for airOS F Updates
Configuration Test Mode
Firmware Recovery via TFTP
Reset to Factory Defaults
Configuration Management: Backup/Restore Device Configuration
Administrator/Read-Only Access
WEB/SSH/Telnet Access
Dynamic DNS
NTP Client
Ping Watchdog
SNMP v1 Support
System Log: Local/Remote
Full Statistical Performance Reporting
Tools
Speed Test
Antenna Alignment
Device Discovery
Ping
Traceroute
Pricing Notes:
Pricing and product availability subject to change without notice.
Ubiquiti airFiber
airFiber Series
airFiber, 5GHz Upper band
#AF-5U
Our Price: $999.00