Ubiquiti airCube

airMAX® Home Wi-Fi Access Point with PoE In/Out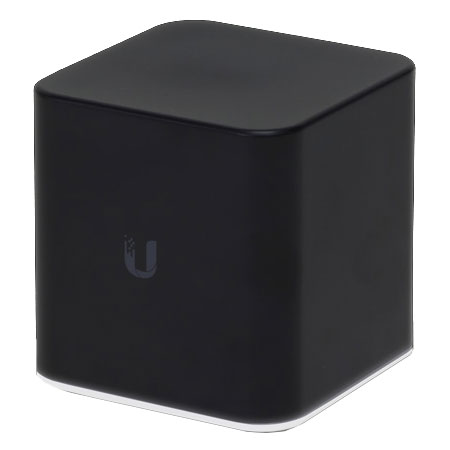 Ubiquiti Products
UniFi Switching & Routing Series
AIRCUBE AC ROUTER
#ACB-AC-US
Our Price: $79.00
AIRCUBE ISP WIFI WRLS N ROUTER
#ACB-ISP-US
Our Price: $29.00
Click here to jump to more pricing!
Overview:
Ubiquiti Networks introduces the airCube™, a cost-effective wireless access point for use in your customer deployments.
Wireless Performance
Dual-band, 802.11ac, 2x2 MIMO technology for maximum wireless performance
2.4 GHz radio band Speeds of up to 300 Mbps
5 GHz radio band Speeds of up to 866.7 Mbps
Versatile Power Options
Both models offer convenient PoE passthrough to power a 24V airMAX CPE device, so you can use a single PoE adapter to power both devices.
To provide sufficient power for PoE passthrough:
The airCube AC requires the included power adapter or 24V, 1A PoE input.
Intuitive Software
Management options feature a graphical user interface designed for streamlined setup and control.
Available options include:
UNMS Provides advanced remote control of Ubiquiti® devices. Use the UNMS™ app to manage your devices using a tablet or smartphone.
Web UI Enables a standalone utility for basic configuration.
Example Typical Deployment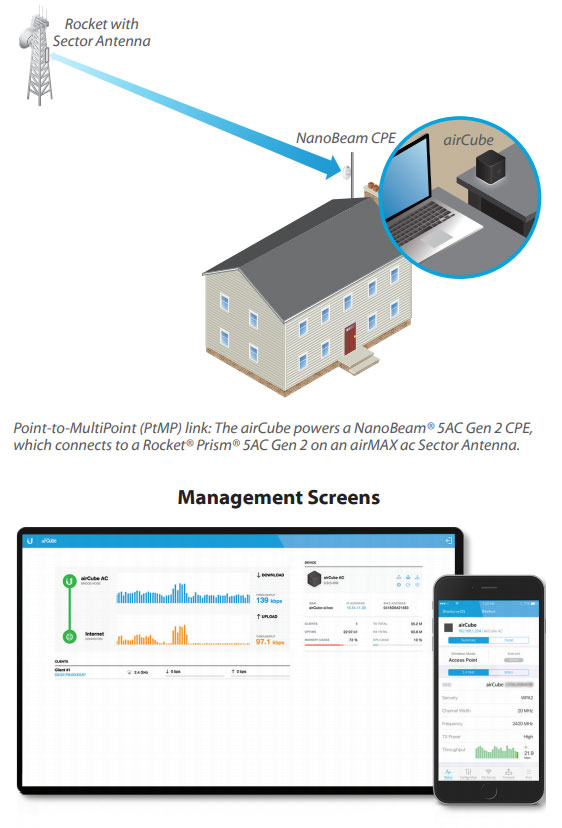 Specifications:
airCube Specifications
Dimensions
87.80 x 89.50 x 89.25 mm
(3.46 x 3.52 x 3.51")
Weight
280 g (9.88 oz)
Power Supply
24VDC
Power Method
24VDC, 0.83A or PoE 24V In on LAN Port 1
Supported Power Voltage
22-26V
Max. Power Consumption
8.5W
PoE Out
Controllable 24V PoE Out (+4, 5; -7, 8) on WAN Port
Management Interface
Wi-Fi / Ethernet
Networking Interface
(4) Gigabit Ethernet Ports
LED
Status
Max. TX Power
22 dBm
Antenna Gain
2.4 GHz
5 GHz
4 dBi
5 dBi
Max. Speeds
2.4 GHz
5 GHz
300 Mbps
866.7 Mbps
Enclosure Characteristics
Black Plastic
ESD/EMP Protection
±24 kV Contact / Air
Operating Temperature
-10 to 50° C (-14 to 122° F)
Operating Humidity
5 to 95% Noncondensing
Certifications
CE, FCC, IC
Ubiquiti Products
UniFi Switching & Routing Series
AIRCUBE AC ROUTER
#ACB-AC-US
Our Price: $79.00
AIRCUBE ISP WIFI WRLS N ROUTER
#ACB-ISP-US
Our Price: $29.00