Ubiquiti UniFi Video Camera G3 AF

1080p Indoor/Outdoor IP Camera with Infrared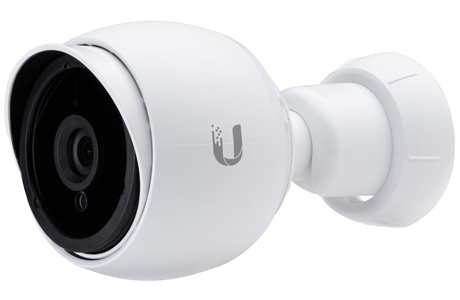 Sorry, this product is no longer available, replaced by the UVC-G3-BULLET.
Overview:
The UniFi Video Camera G3 features clear 1080p video resolution. The new ball joint mount design offers flexible 3-axis adjustment and can be mounted indoors or outdoors. The camera has infrared LEDs with an automatic IR cut filter for day and night surveillance. Available in a single-pack or 5-pack bundle.
1080p Full HD, 30 FPS
EFL 3.6 mm, ƒ/1.8
Outdoor Weather Resistant
24V Passive PoE
Built-in Microphone
Wall, Ceiling, or Pole Mount
High-Definition IP Surveillance Cameras
The UniFi Video Cameras G3 and G3 Dome represent the next generation of cameras designed for use in the UniFi Video surveillance management system. These cameras offer 1080p Full HD resolution for day or night use and are integrated with the UniFi Video software for powerful and flexible, integrated IP video management.
Unified Video Surveillance Management
Easily scale IP surveillance camera networks to hundreds* of plug and play, high-performance devices across multiple locations. Manage and control your system with intuitive software packed with powerful features and analytic capabilities — all without licensing fees or support costs.
*UniFi NVR supports up to 50 cameras. Combine UniFi Video software with alternate system configurations to support 100+ cameras.
Features:
Powerful Software Management
Use the UniFi Video mobile app for easy camera management and live streaming from an iOS or Android-based smartphone or tablet. The UniFi Video mobile app is now available in the App Store for iOS and Google Play Store for Android.

HD Image Quality
Featuring an EFL 3.6 mm f/1.8 lens for superior vision, the UniFi Video Camera G3 provides 1080p HD resolution at 30 FPS.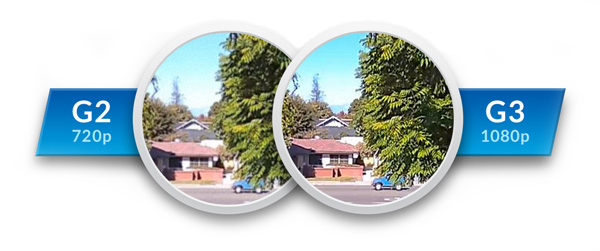 Unlimited Free Use + No Third-Party Server Streaming + Remote Accessibility Anywhere
Hybrid Cloud Technology combines the best of local and cloud management: secure, local storage and convenient remote access with streaming privacy – no licensing or maintenance fees.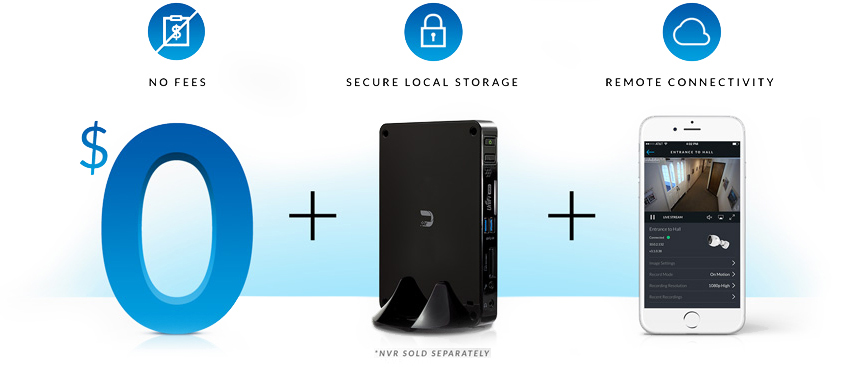 Versatile Mounting Options
The UniFi Video Camera offers aiming flexibility and can be mounted quickly on a wall, ceiling, or pole.

Product Views: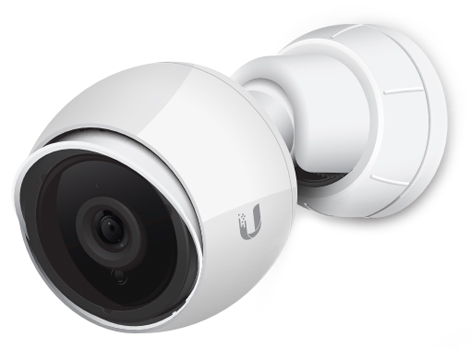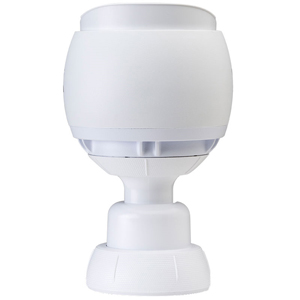 Top View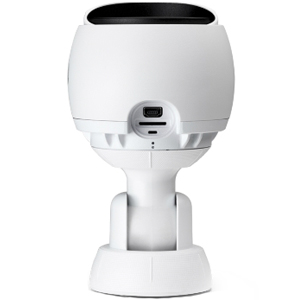 Bottom View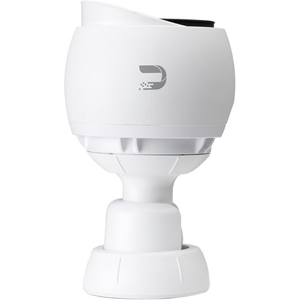 Side View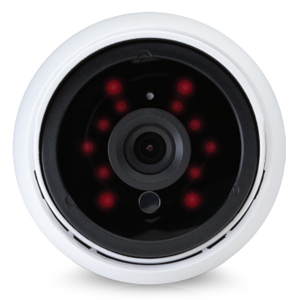 Front Len View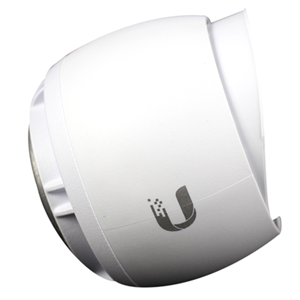 Side Zoom In View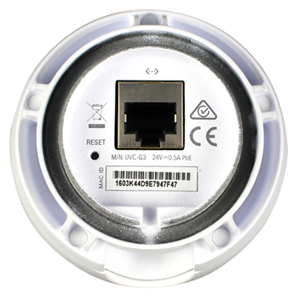 Ethernet Port View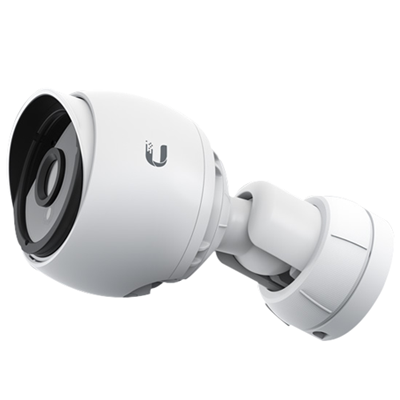 Left Side View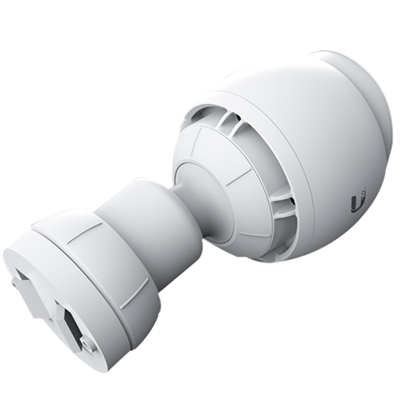 Right Side View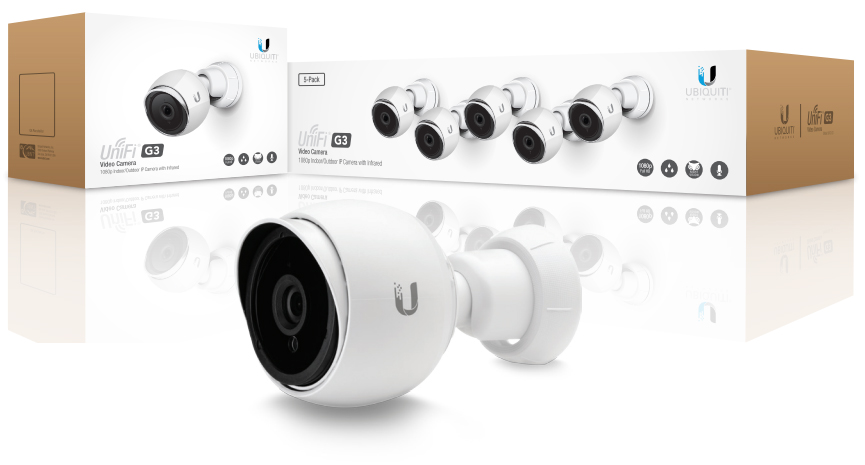 Deployment:
Faster deployment, more powerful manageability
UniFi Video deployment is faster than ever. The airVision software now autodiscovers, configures and manages airCam devices centrally. The UniFi NVR is pre-installed with UniFi Video software and comes with a configuration wizard to make deployment even easier. UniFi Video now has powerful new management features like role based security and rule based storage management.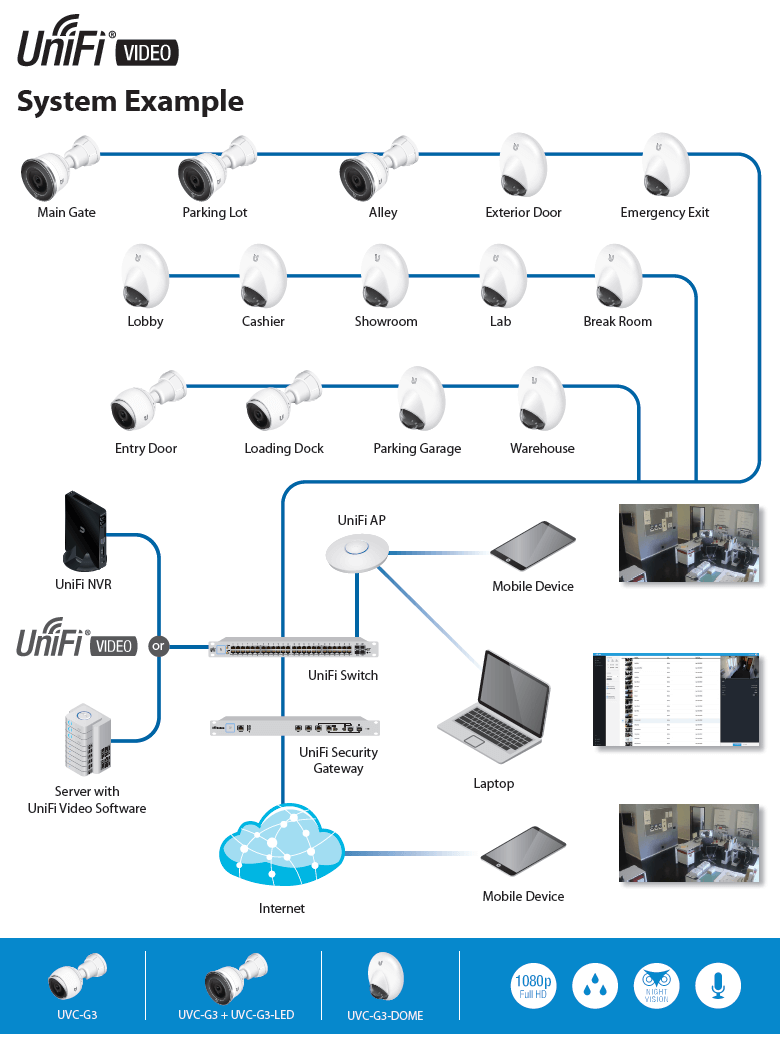 Specifications: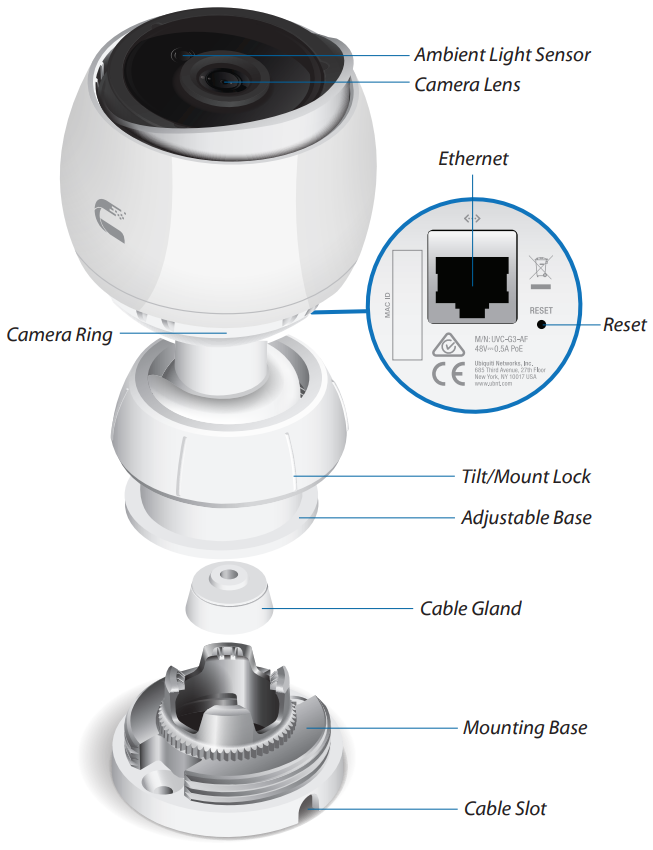 | | |
| --- | --- |
| Dimensions | Ø 75 x 140 mm (Ø 2.95 x 5.51") |
| Weight | 300 g (10.58 oz) |
| Enclosure | Injection-Molded Polycarbonate and Die-Cast Aluminum |
| Networking Interface | (1) 10/100 Ethernet Port |
| Sensor | 1/3" 4-Megapixel HDR Sensor |
| Lens | EFL 3.6 mm, f/1.8 |
| Night Mode | IR LEDs with Mechanical IR Cut Filter |
| Microphone | Yes |
| Button | Factory Reset Button |
| Power Method | 802.3af PoE or 24V Passive PoE |
| Power Supply | 802.3af PoE Switch |
| Maximum Power Consumption Standalone With Optional IR Extender | 4W 9W |
| Mounting | Wall/Ceiling/Pole |
| Operating Temperature | -30 to 70° C (-22 to 158° F) |
| Operating Humidity | 20 - 90% Noncondensing |
| Video | |
| Video Compression | H.264 |
| Resolution | 1080p Full HD (1920x1080) |
| Maximum Frame Rate | 30 FPS |
| Image Settings | Brightness, Contrast, Sharpness, Saturation, Noise Reduction, 50/60 Hz |
| General | |
| Viewing Angle Before Lens Correction After Lens Correction | 85° (H), 44.8° (V), 98.1° (D) 72° (H), 42.9° (V), 80.4° (D) |
| Supported UniFi Video Version | UniFi Video 3.8 (or Newer) |
| UniFi Video System Requirements | 64-bit Microsoft Windows 10/8/7, Ubuntu 14.04 or 16.04, or Debian 7.0 System with an Intel or Compatible 1.86 GHz (or Above) Processor and a Minimum of 4 GB RAM |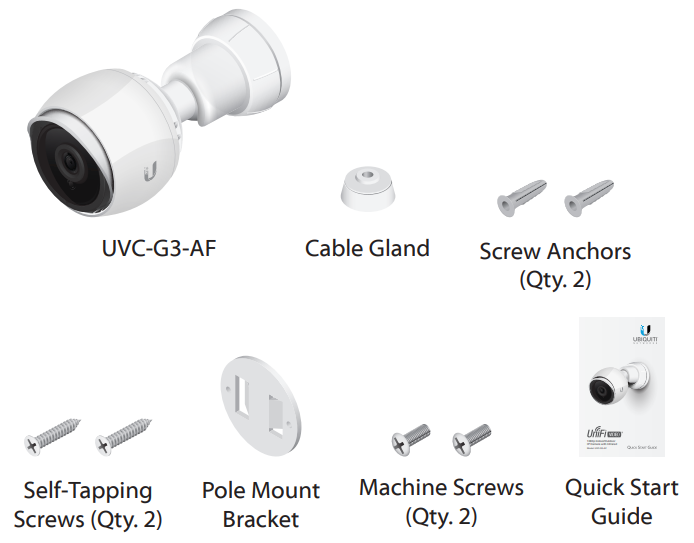 IR Range Extender: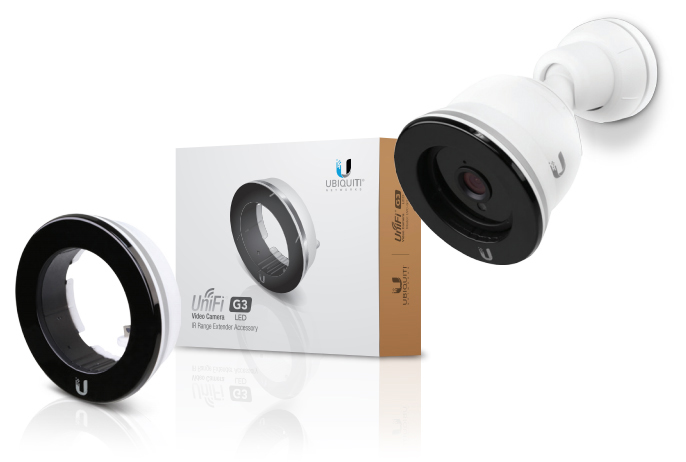 The IR Range Extender, model UVC-G3-LED, is an accessory to enhance the night vision range of the UVC-G3 camera.
Enhances Night Vision Recordings
Extends IR Range up to 25 m (82 ft)
Six High-Intensity Infrared LEDs
Powered and Controlled by the UVC-G3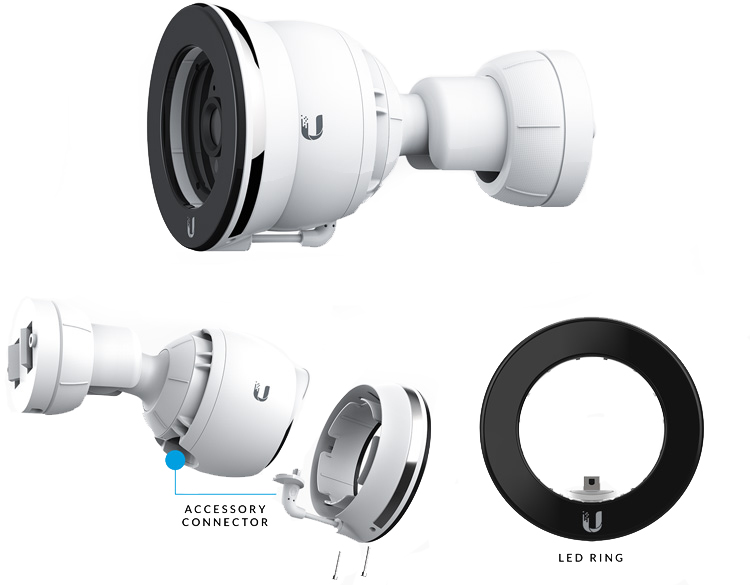 Software: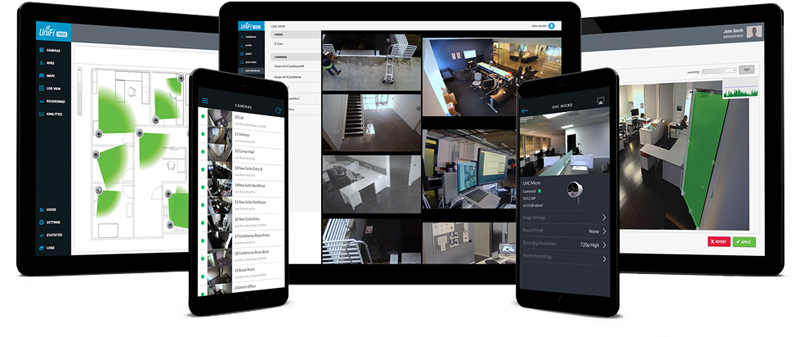 Quickly deploy, easily monitor and manage your cameras with a powerful, intuitive user interface.
The UniFi Video software is pre-installed on the UniFi NVR for quick and easy deployment. The UniFi Video software can also be downloaded and installed on a Windows/Linux system.
HD Video & Live View
Get high-quality / low-latency video with up to 1080p* support. View live feeds in a single or customizable, multi-camera format.
Multi-Site & Multi-User Management
Expand across different networks with any number of devices and manage them under a single user interface. UniFi®  Video allows you to grant access rights and restrictions to different users or user groups for your cameras and camera functionality.
* 1080p / 720p support depends on the model of camera installed.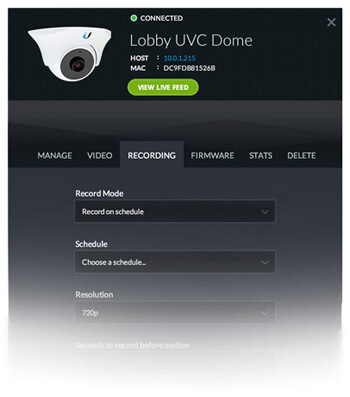 Feature-Packed User Interface
UniFi Video's user interface was designed to be easy to use yet packed with advanced features such as detailed statistical reporting, advanced analytics and customizable event recordings.

Analytics & Statistics
Quickly assess important camera activity and NVR performance with easy-to-read data visualizations.

Recordings
UniFi Video gives you a variety of options and settings to customize what your cameras record.

Zone Security
Zones can be defined to detect motion in important areas while ignoring less important areas.
Features
Feature-Packed User Interface
Accessible from a web browser, the UniFi Video interface was designed to be easy to use yet packed with advanced features. The UniFi Video interface is incredibly intuitive and loaded with powerful features such as detailed statistical reporting, multiple views, versatile camera settings, advanced analytics, and customizable event recordings.
Plug and Play Installation
Automatic camera detection in the UniFi Video software makes it easy to install and deploy cameras. UniFi Video Camera settings are integrated into the UniFi Video software. Configure camera settings, reboot the camera, or upgrade the firmware from the UniFI Video interface.
Camera-Based Motion Detection
The UniFi Video cameras handle motion detection instead of the server, relieving the workload on the server and ensuring that compression and noise won't affect motion detection.
Additional Live Views
Playlists can be created with a configurable live camera feed rotation. Define the cameras you want included in the playlist and how long you want them to appear on the screen before moving on to the next live feed.
Disk Management Features
UniFi Video has automatic recording management to free up disk space. User-definable disk space and date-based auto purge allow users to keep a set amount of free disk space or automatically delete recordings after a certain number of days. Another storage feature is the ability to map external USB or network storage drives.
Cost-Effective Solution
Shattering conventional industry thinking, Ubiquiti offers UniFi Video's powerful IP surveillance software at no additional cost. No huge upfront costs, no monthly subscription fees.
Mobile App
UniFi Video may be accessed from iOS and Android using the UniFi Video mobile app.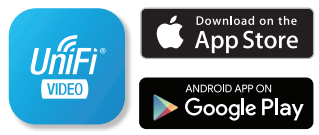 Mobile Support
The UniFi Video web interface is accessible on iOS and Android tablets and phones.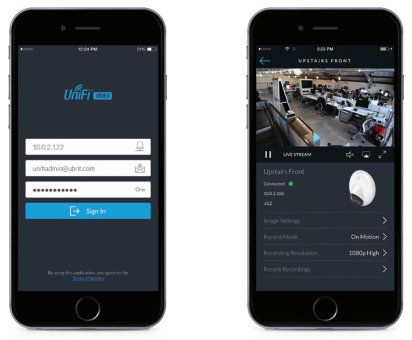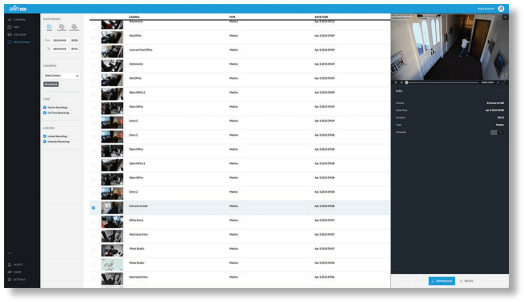 Event Recordings
UniFi Video software provides a variety of options and settings to customize what your cameras record.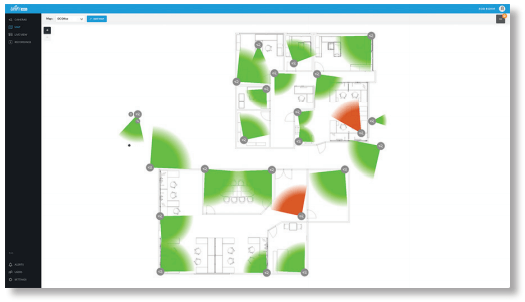 Maps
Upload a map of your location(s) or use Google Maps to represent the areas where your cameras are located.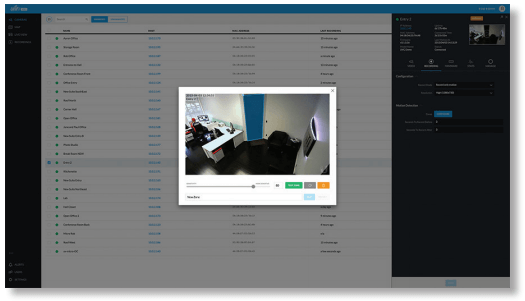 Powerful Analytic Capabilities
Customize your own motion detection zones. You can place several zones and set their alarm sensitivity levels as high or low as the situation demands.
UniFi Video Software Specifications
Software
Browser-Based Interface, Tablets, and Smartphones Supported
System Setup
Plug-and-Play Installation, Automatic Camera Detection
NVR Camera Support
Recommended for up to 20 UniFi Video Cameras. Supports up to 50
Supported Devices
Operating Systems: Windows, Apple, and Linux
Browsers: Chrome, Internet Explorer 10 (or above), Firefox, and Safari
Smartphones: iPhone and Android
Media Format
MP4 (H.264/AAC)
Scheduling
Day/Time/Camera
Scheduled Video Recording/Motion Detection/Email Alerts
Views
Custom Views of Multiple Cameras
Full Screen Capability
Miscellaneous: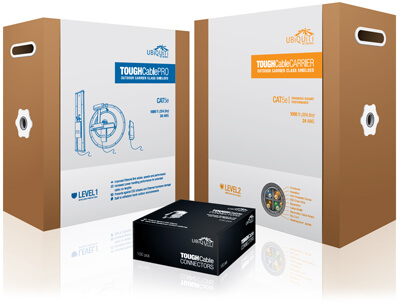 Protect your networks from the most brutal environments with Ubiquiti's industrialgrade shielded ethernet cable, TOUGHCable.
Increase Performance - Dramatically improve your ethernet link states, speeds, and overall performance with Ubiquiti TOUGHCables.
Extreme Weatherproof - TOUGHCables have been built to perform even in the harshest weather and environments.
ESD Damage Protection - Protect your networks from devastating electrostatic discharge (ESD) attacks.
Extended Cable Support - TOUGHCables have been developed to have increased power handling performance for extended cable run lengths.
Bulletproof your networks
TOUGHCable is currently available in two versions: PRO Shielding Protection and CARRIER Shielding Protection.
TOUGHCable PRO is a Category 5e, outdoor, carrier-class shielded cable with an integrated ESD drain wire.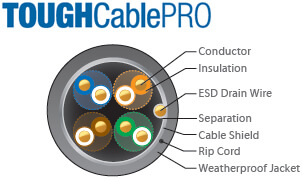 TOUGHCable CARRIER is a Category 6, outdoor, carrier-class shielded cable that features an integrated ESD drain wire, anti-crosstalk divider, and secondary shielding. It is rated to provide optimal performance on Gigabit Ethernet networks.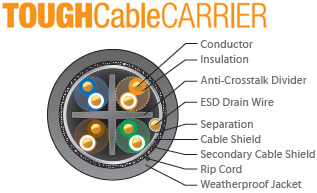 Additional Information:
24 AWG copper conductor pairs
26 AWG integrated ESD drain wire to prevent ESD attacks and damage
PE outdoor-rated, weatherproof jacket
Multi-layered shielding
Available in lengths of 1000 ft (304.8 m)
TOUGHCable Connectors
Specifically designed for use with Ubiquiti TOUGHCable, TOUGHCable Connectors protect against ESD attacks and Ethernet hardware damage, while allowing rapid field deployment without soldering. The standard TOUGHCable Connectors are available in a box of 100, while the TC-GND versions include ground wires and are available in a box of 20.
ESD attacks are the leading cause for device failures. The diagram below illustrates the areas vulnerable to ESD attacks in a network.
By using a grounded Ubiquiti Power over Ethernet (PoE) Adapter along with Ubiquiti TOUGHCable and TOUGHCable Connectors, you can effectively protect against ESD attacks.

Advanced Gigabit PoE Managed Switch
Introducing the Advanced Power over Ethernet Controllers, TOUGHSwitch™ PoE from Ubiquiti Networks. TOUGHSwitch PoE delivers reliable passive PoE and fast 10/100/1000 Mbps connectivity to attached Ubiquiti devices and other devices that support passive PoE.
To connect your PoE devices, simply enable PoE in the easy-to-use TOUGHSwitch Confi guration Interface. Each port can be individually confi gured to provide PoE, so both PoE and non-PoE devices can be connected.
Simplify Your Deployment
TOUGHSwitch PoE allows network architects to design cleaner, less cluttered deployments. For example, integrating one TOUGHSwitch PoE PRO can eliminate the need for the following:
8 PoE adapters
8 power cords
8 power outlets
8 Ethernet patch cables
TOUGHSwitch PoE deployments increase efficiency and greatly reduce potential failure points - resulting in faster installations and less maintenance and troubleshooting.