Ubiquiti UniFi Dimmer Switch

Network Managed Lighting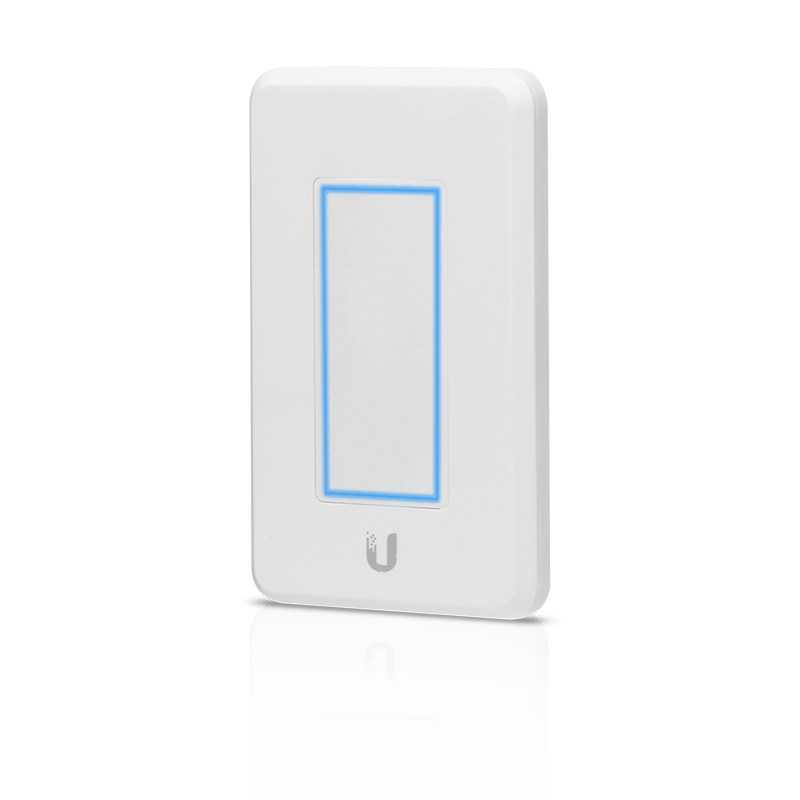 Ubiquiti Products
UniFi LED and Dimmer Switch - PoE Powered
Unifi Light Dimmer PoE powered
#UDIM-AT
Our Price: $49.00
UniFi Light Dimmer, PoE Powered, 5-Pack
#UDIM-AT-5
Our Price: $215.00
UniFi LED and Dimmer Switch - AC Powered
UniFi Light Dimmer AC powered
#UDIM-AC
Our Price: $59.00
UniFi Light Dimmer AC powered, 3 pack
#UDIM-AC-3
Our Price: $169.00
Click here to jump to more pricing!
Overview:
Ubiquiti Networks introduces the UniFi® EoT (Enterprise of Things) product family. Targeted for businesses of all sizes, UniFi EoT is designed to blend seamlessly into existing deployments of UniFi network systems.
Launching the UniFi EoT line are the UniFi LED Panel and UniFi Dimmer Switch. Offering the ultimate in lighting efficiency and convenience, the UniFi LED Panel fits into a standard T-grid dropped ceiling and runs on 802.3at PoE+. The panel can be controlled in three ways:
UniFi Dimmer Switch Uses 802.3af PoE power and lets you directly control one or multiple LED Panels. You can switch panels on/off or adjust their brightness (10-100%).
UniFi LED Controller Software (Beta) Browser-based interface, hosted on a UniFi Application Server or Ubuntu device, provides easy management of your LED devices.
UniFi LED App Mobile app (iOS or Android™) allows remote configuration via an AP connected to the LAN.
Advantages
Network Manageable The UniFi LED Panel integrates seamlessly into your enterprise network, for complete control of your lighting system from a single point.
Safe, Economical Installation The UniFi LED Panel uses low-voltage DC power (PoE+), so it is safer to install than AC-powered lighting. PoE+ also does not need separate power cables, so you save on labor and cable costs.
Save Energy With 100 lm/W efficacy and 25W maximum power consumption, each UniFi LED Panel produces light more efficiently and for less money than fluorescent lighting
Control Flexibility The UniFi LED Panel can be controlled remotely using the UniFi LED Controller or UniFi LED app, or locally using the UniFi Dimmer Switch.
Save on Maintenance Long-lasting LEDs (50,000+ hrs) and one LED panel versus three tubes per fixture mean less time spent changing lights, saving both time and money.
Specifications:
UDIM-AT
Dimensions
71 x 115 x 25 mm (2.8 x 4.53 x 0.98")
Weight
90 g (3.2 oz)
Management Interface
UniFi LED Controller
UniFi LED App
Networking Interface
10/100 Ethernet Port
Buttons
Reset
LEDs
Status
Power Method
802.3af PoE
Power Supply
UniFi Switch (802.3af)
Supported Voltage Range
48V
Max. Power Consumption
5W
Max. LED Panels per Dimmer Switch
128 (Recommended)
Operating Temperature
0 to 40° C (32 to 104° F)
Operating Humidity
10 to 90% Noncondensing
Certifications
CE, FCC, IC
Pricing Notes:
Pricing and product availability subject to change without notice.
Ubiquiti Products
UniFi LED and Dimmer Switch - PoE Powered
Unifi Light Dimmer PoE powered
#UDIM-AT
Our Price: $49.00
UniFi Light Dimmer, PoE Powered, 5-Pack
#UDIM-AT-5
Our Price: $215.00
UniFi LED and Dimmer Switch - AC Powered
UniFi Light Dimmer AC powered
#UDIM-AC
Our Price: $59.00
UniFi Light Dimmer AC powered, 3 pack
#UDIM-AC-3
Our Price: $169.00