Ubiquiti UniFi AC In-Wall Access Point

Scalable Enterprise Wi-Fi Management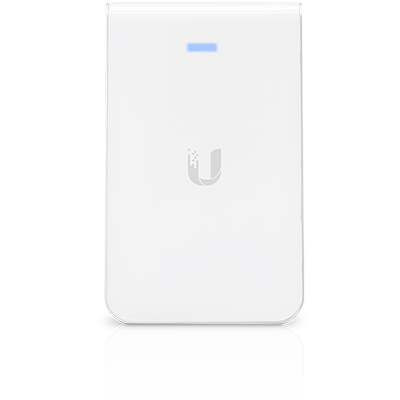 Ubiquiti Products
UniFi Access Points
UNIFI AP IN-WALL
#UAP-AC-IW-US
Our Price: $99.00
Click here to jump to more pricing!
Overview:
UniFi® is the revolutionary Wi-Fi system that combines enterprise performance, unlimited scalability, and a central management controller. UniFi 802.11AC Dual‑Radio Access Points (APs) have a refined industrial design and can be easily installed using the included mounting hardware.
Easily accessible through any standard web browser and the UniFi mobile app (iOS or Android), the UniFi Controller software is a powerful software engine ideal for high‑density client deployments requiring low latency and high uptime performance.
Use the UniFi Controller software to quickly configure and administer an enterprise Wi-Fi network – no special training required. RF map and performance features, real-time status, automatic UAP device detection, and advanced security options are all seamlessly integrated.
Features
Save Money and Save Time: Unlike traditional enterprise Wi-Fi systems that use a hardware controller, UniFi comes bundled with a non-dedicated software controller that can be deployed on an on-site PC, Mac, or Linux machine; in a private cloud; or using a public cloud service.
Powerful Hardware: The UniFi 802.11AC Dual-Radio APs feature the latest in Wi-Fi 802.11AC MIMO technology.
Intuitive: UniFi Controller Software Configure and manage your APs with the easy-to-learn user interface.
Expandable: Unlimited scalability: build wireless networks as big or small as needed. Start with one (or upgrade to a three‑pack) and expand to thousands while maintaining a single unified management system.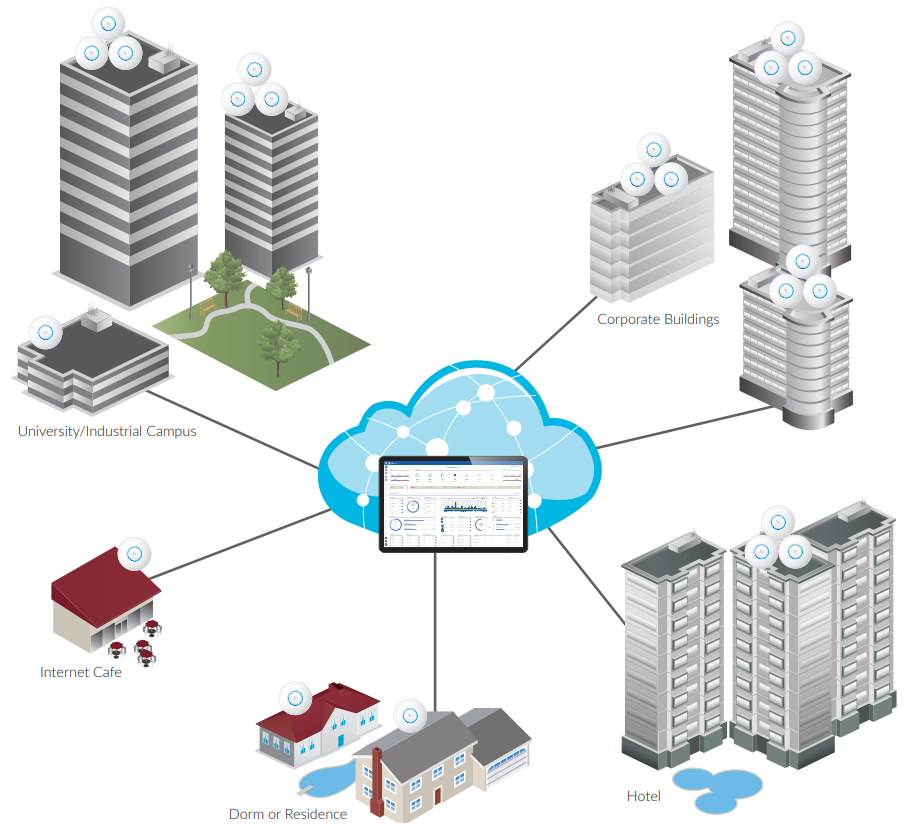 Features:
UniFi Controller
Packed with Features
The UniFi Controller can provision thousands of UniFi APs, map out networks, quickly manage system traffic, and add more UniFi APs.
View Your RF Environment
Use the RF environment functionality of the UniFi WiFi BaseStation XG to detect and troubleshoot nearby interference, analyze radio frequencies, choose optimal AP placement, and configure settings.
Powerful RF Performance Features
Advanced RF performance and configuration features include spectral analysis, airtime fairness, and band steering.
Detailed Analytics
The UniFi Controller provides configurable reporting and analytics to manage large user populations and expedite troubleshooting.
WLAN Groups
Manage flexible configurations of large deployments. Create multiple WLAN groups and assign them to an AP's radio. Each WLAN can be VLAN tagged. Dynamic VLAN tagging per Wi-Fi station (or RADIUS VLAN) is also supported.
Wireless Uplink
Wireless Uplink functionality enables wireless connectivity between APs for extended range. One wired UniFi AP uplink supports up to four wireless downlinks on a single operating band, allowing wireless adoption of devices in their default state and real-time changes to network topology.
Multi-Site Management
A single UniFi Controller running in the cloud can manage multiple sites: multiple, distributed deployments and multi-tenancy for managed service providers. Each site is logically separated and has its own configuration, maps, statistics, guest portal, and administrator accounts.
Guest Portal/Hotspot Support
Easy customization and options for Guest Portals include authentication, Hotspot setup, and the ability to use your own external portal server. Use UniFi's rate limiting for your Guest Portal/Hotspot package offerings. Apply different bandwidth rates (download/upload), limit total data usage, and limit duration of use
All UniFi APs include Hotspot functionality:
Built-in support for billing integration using major credit cards.
Built-in support for voucher-based authentication.
Built-in Hotspot Manager for voucher creation, guest management, and payment refunds.
Full customization and branding of Hotspot portal pages.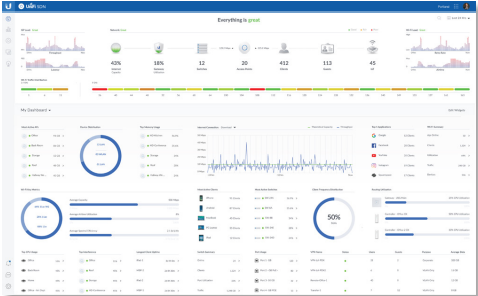 Dashboard
UniFi provides visual representation and status information about different aspects of your network.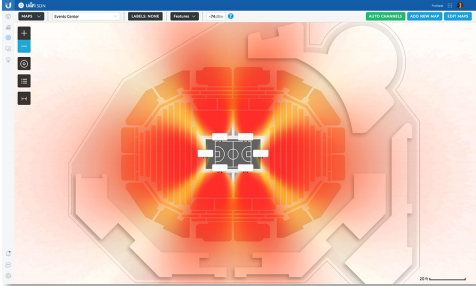 RF Map
Monitor UniFi APs and analyze the surrounding RF environment.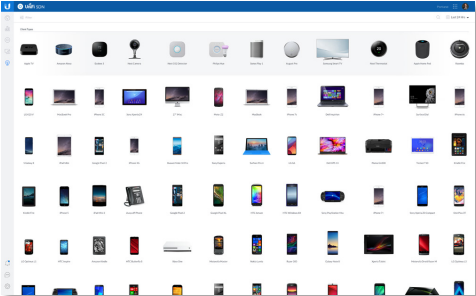 Insights
UniFi displays the client types for a specific time period.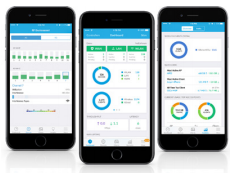 UniFi App
Manage your UniFi devices from your smartphone or tablet.
Hardware Overview:
Easy Mounting: Sleek design for seamless integration into any environment (all accessories included).
LED: Unique provisioning and status LED provides administrator location tracking and alerts for each device.
Designed for the Great Outdoors: The UniFi AC Pro features weatherproof casing designed specifically for outdoor applications.
Advanced Acoustic Speaker: The UniFi AC EDU AP provides high-quality sound with accurate voice reproduction for announcements over Wi-Fi.
Power over Ethernet (PoE): Includes PoE functionality. Each single-pack – except for the UniFi AC In-Wall AP, In‑Wall Pro AP, and Pro AP – includes a PoE adapter.
PoE Switching
UniFi Switch with PoE: You can power your UniFi devices with a UniFi PoE Switch (sold separately). Available in 8, 16, 24, and 48‑port versions with multiple power output options, the UniFi PoE Switch conveniently offers auto‑sensing IEEE 802.3af PoE/802.3at PoE+.
PoE Standards: The UniFi AC EDU, In-Wall, In-Wall Pro, and Pro APs are compatible with an 802.3at PoE+ compliant switch. The UniFi AC Pro AP can also use 802.3af PoE.
Specifications:
UAP-AC-IW
Dimensions
139.7 x 86.7 x 25.75 mm (5.5 x 3.41 x 1.01")
Weight
200 g (6.43 oz)
Networking Interface
(3) 10/100/1000 Ethernet Ports
Buttons
Reset
Power Method
802.3at PoE+ Supported
Power Supply
UniFi PoE Switch (Not Included)
Power Save
Supported
PoE Out
48V Pass-Through (Pins 1, 2+; 3, 6-)
Maximum Power Consumption
with PoE Passthrough
7W
19W
Maximum TX Power
2.4 GHz
5 GHz

20 dBm
20 dBm
Antennas
2.4 GHz
5 GHz
(1) Dual-Band Antenna, Single-Polarity
1 dBi
2 dBi
Wi-Fi Standards
802.11 a/b/g/n/r/k/v/ac
Wireless Security
WEP, WPA-PSK, WPA-Enterprise (WPA/WPA2, TKIP/AES)
BSSID
Up to 8 per Radio
Mounting
1-Gang Electrical Wall Box (Not Included)
Operating Temperature
-10 to 50° C (14 to 122° F)
Operating Humidity
5 to 95% Noncondensing
Certifications
CE, FCC, IC
Advanced Traffic Management
VLAN
802.1Q
Advanced QoS
Per-User Rate Limiting
Guest Traffic Isolation
Supported
WMM
Voice, Video, Best Effort, and Background
Concurrent Clients
250+
Supported Data Rates (Mbps)
Standard
Data Rates
802.11ac
6.5 Mbps to 867 Mbps (MCS0 - MCS9 NSS1/2, VHT 20/40/80)
802.11n
6.5 Mbps to 300 Mbps (MCS0 - MCS15, HT 20/40)
802.11a
6, 9, 12, 18, 24, 36, 48, 54 Mbps
802.11g
6, 9, 12, 18, 24, 36, 48, 54 Mbps
802.11b
1, 2, 5.5, 11 Mbps
Pricing Notes:
Pricing and product availability subject to change without notice.
Ubiquiti Products
UniFi Access Points
UNIFI AP IN-WALL
#UAP-AC-IW-US
Our Price: $99.00