Ubiquiti TOUGHSwitch PoE

Advanced Power over Ethernet Controllers

Sorry, this product is no longer available, please contact us for a replacement.
Overview:
Cost effective 5-port Gigabit switch with 24V PoE support for each port. It is ideal for powering Ubiquiti airMAX, UniFi, and airVision devices.
5 Gigabit PoE Ports
24V Configurable Passive PoE
TOUGHSwitch PoE Configuration Interface
Wall-Mountable
Advanced Gigabit PoE Managed Switch
Introducing the Advanced Power over Ethernet Controllers, TOUGHSwitch PoE from Ubiquiti Networks. TOUGHSwitch PoE delivers reliable passive PoE and fast 10/100/1000 Mbps connectivity to attached Ubiquiti devices and other devices that support passive PoE.
To connect your PoE devices, simply enable PoE in the easy-to-use TOUGHSwitch Configuration Interface. Each port can be individually configured to provide PoE, so both PoE and non-PoE devices can be connected.

Gigabit Ethernet

Advanced UI Management

Industrial Strength

Intuitive Configuration Interface
TOUGHSwitch PoE provides a user-friendly configuration interface designed for efficient setup and control. Accessed via a secured management port and web browser, the TOUGHSwitch Configuration Interface provides intuitive management with a virtual view of the ports, showing physical connectivity, speed, and PoE status.
Advanced Features
TOUGHSwitch PoE is loaded with a variety of advanced fatures, including:
Port monitoring
System connection and management services
Virtual Local Area Network (VLAN) configuration
Spanning Tree Protocol (STP)/Rapid Spanning Tree Protocol (RSTP)
Jumbo Frame Support
Ping Watchdog
Configurable alerts
Features:
Clean Industrial Design
The TOUGHSwitch is designed to simplify deployment, consolidating the delivery of data and passive PoE (as needed).

Convenient PoE Support
The TOUGHSwitch supports 24V or 48V passive PoE to power multiple devices on your network.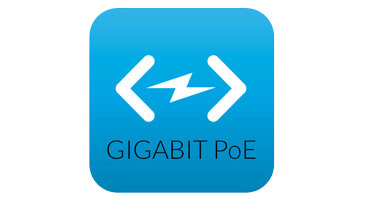 Carrier-Class Reliability
The TOUGHSwitch™ delivers uptime performance equal to leading carrier or enterprise technology solutions.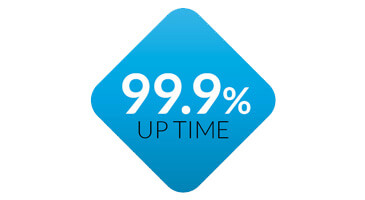 Industrial-Strength Construction
The TOUGHSwitch™ is purpose-built with robust mechanicals for industrial application use.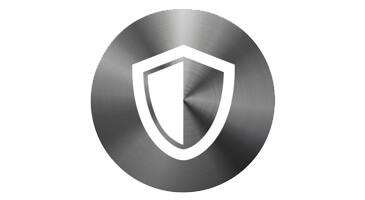 A Single Power Source
Featuring software-selectable output voltage control, the TOUGHSwitch™ PoE PRO and Carrier models can power 24V or 48V devices.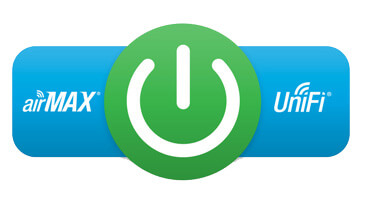 Intuitive UI
Designed for efficient setup and control, the graphical user interface is easy to use and manages advanced Layer 2 features, including:
Port monitoring
System connection and management services
Virtual Local Area Network (VLAN) configuration
Spanning Tree Protocol (STP)/Rapid Spanning Tree Protocol (RSTP)
Jumbo frame support
Ping Watchdog
Configurable alert
Deployment:
Simplify Your Deployment
TOUGHSwitch PoE allows network architects to design cleaner, less cluttered deployments. For example, integrating one TOUGHSwitch PoE PRO can eliminate the need for the following:
8 PoE adapters
8 power cords
8 power outlets
8 Ethernet patch cables
TOUGHSwitch PoE deployments increase efficiency and greatly reduce potential failure points - resulting in faster installations and less maintenance and troubleshooting.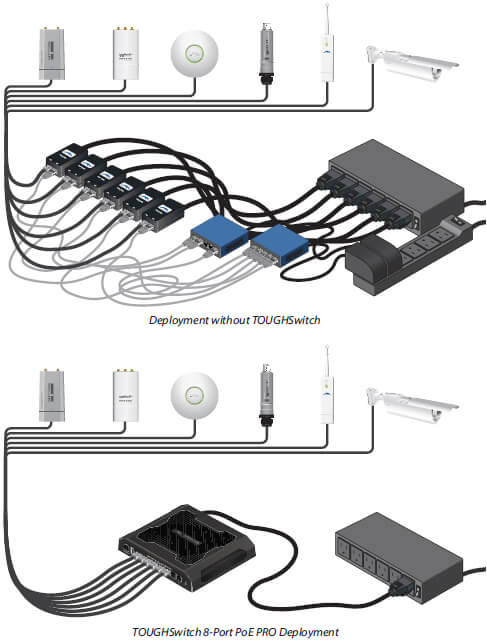 Product Views: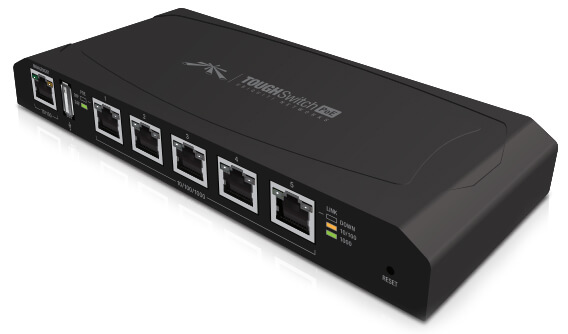 Left Angle View




Front View




Rear View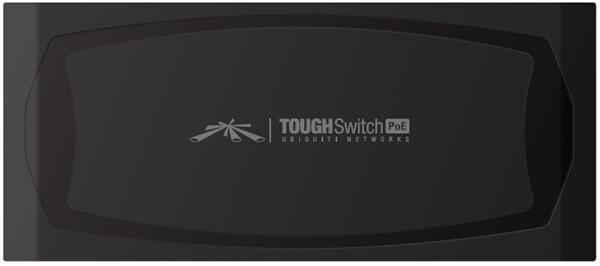 Top View
Specifications: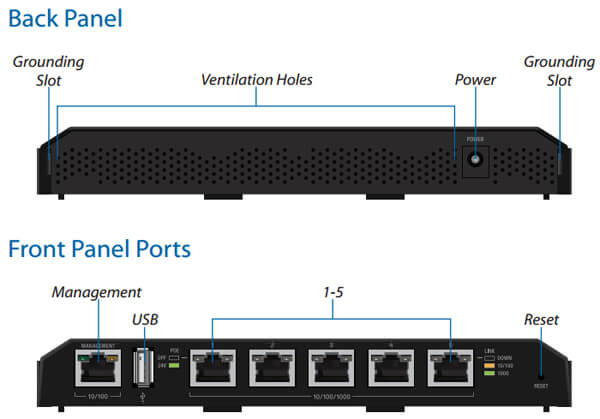 5-Port TOUGHSwitch PoE Specification
Dimensions
197 x 87.5 x 27.3 mm
Weight
250 g
Power Input
24VDC, 2.5A Power Adapter (Included)
Max. Power Consumption
60 W
PoE Out Voltage Range
22-24VDC
Max. PoE Wattage Per Data Port
18 W
ESD Rating
24 kV Air / 24 kV Contact
PoE Method
Passive
Button
Reset
Button
2.0 Type A (Reserved for Future Use)
Processor
MIPS24K 400 MHz
System Memory
64 MB
Code Storage
8 MB
Certifications
CE, FCC, IC
Wall-Mount
Yes
Operating Temperature
-25 to 55°C (-13 to 131° F)
Operating Humidity
90% Non-Condensing
PoE Configurable Per Port
Management Port
N/A
Data Ports
Off/24V
LEDs Per Port
Management Port
Power /Link/Activity
Data Ports
PoE, Speed/Link/Activity
Networking Interfaces
Management Port
(1) 10/100 Ethernet Port
Data Ports
(5) 10/100/1000 Ethernet Ports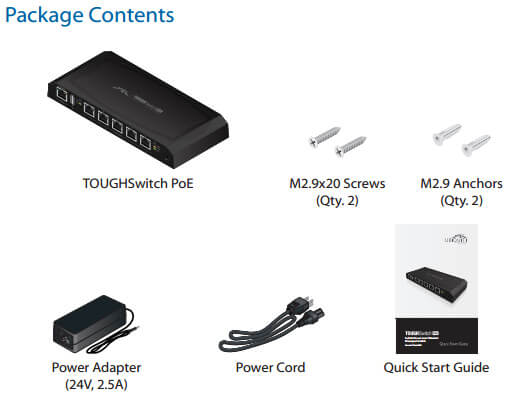 Miscellaneous: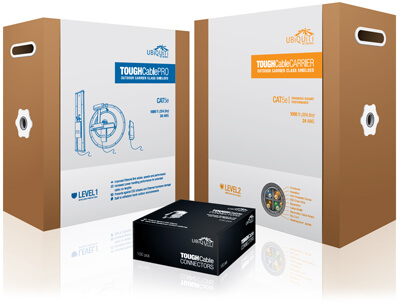 Protect your networks from the most brutal environments with Ubiquiti's industrialgrade shielded ethernet cable, TOUGHCable.
Increase Performance - Dramatically improve your ethernet link states, speeds, and overall performance with Ubiquiti TOUGHCables.
Extreme Weatherproof - TOUGHCables have been built to perform even in the harshest weather and environments.
ESD Damage Protection - Protect your networks from devastating electrostatic discharge (ESD) attacks.
Extended Cable Support - TOUGHCables have been developed to have increased power handling performance for extended cable run lengths.
Bulletproof your networks
TOUGHCable is currently available in two versions: PRO Shielding Protection and CARRIER Shielding Protection.
TOUGHCable PRO is a Category 5e, outdoor, carrier-class shielded cable with an integrated ESD drain wire.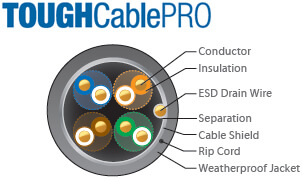 TOUGHCable CARRIER is a Category 6, outdoor, carrier-class shielded cable that features an integrated ESD drain wire, anti-crosstalk divider, and secondary shielding. It is rated to provide optimal performance on Gigabit Ethernet networks.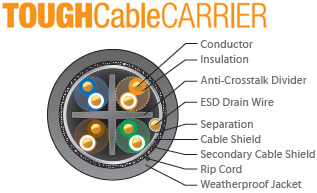 Additional Information:
24 AWG copper conductor pairs
26 AWG integrated ESD drain wire to prevent ESD attacks and damage
PE outdoor-rated, weatherproof jacket
Multi-layered shielding
Available in lengths of 1000 ft (304.8 m)
TOUGHCable Connectors
Specifically designed for use with Ubiquiti TOUGHCables and available in 100 pc. bags, TOUGHCable Connectors protect against ESD attacks and Ethernet hardware damage while allowing rapid field deployment without soldering.
ESD Attacks are overwhelmingly the leading cause for device failures. The diagram below illustrates the areas vulnerable to ESD Attacks in a defenseless network.
By using a grounded Ubiquiti POE adapter (included) along with Ubiquiti TOUGHCable (sold separately), you can effectively eliminate ESD Attacks.
Pricing Notes:
Pricing and product availability subject to change without notice.
Ubiquiti Products
TOUGHCable
UISP CABLE PRO 305M CAT5E
#UISP-Cable-Pro
Our Price: $135.00
UISP CABLE PRO 305M CAT5E
#UISP-Cable-Carrier
Get a Quote!
Tough Cable Connectors 100PK