Ubiquiti EtherMagic

MultiPoint Gigabit Powerline System with PoE+ Capability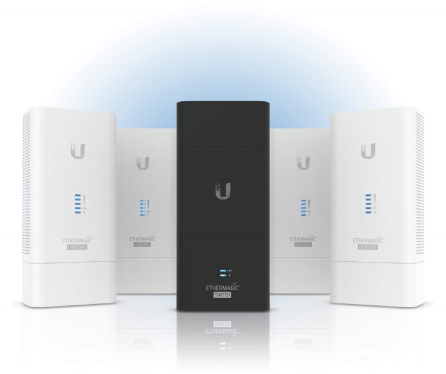 Sorry, this product is no longer available, please contact us for a replacement.
Overview:
Connectivity Now Possible Everywhere
Introducing EtherMagic™, an innovative Powerline Communication (PLC) System featuring Gigabit multipoint connectivity and PoE capabilities. EtherMagic instantly transforms your electrical circuit into a 1200 Mbps Ethernet network without the need to install Ethernet cabling.
In the EtherMagic system, an intelligently designed multipoint Switch pairs with up to 32 EndPoints. Each EndPoint features built-in PoE, for much simpler installation than systems that require separate PoE adapters.
Setup is quick and easy using the EtherMagic mobile app. EtherMagic is the ideal solution for networking wired devices in buildings where Ethernet cabling is unavailable or difficult to install.
Significant Cost Savings
EtherMagic instantly transforms existing electrical wiring inside buildings into an EtherMagic network. EtherMagic creates a new range of possibilities by providing a cost-effective, wired network solution for older buildings where Ethernet cabling is unavailable or impractical to install. EtherMagic potentially saves tens of thousands of dollars in installation and cabling costs.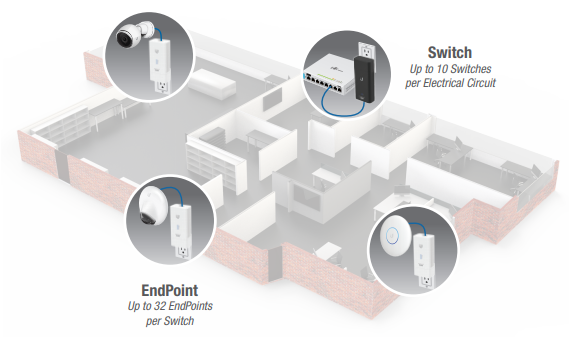 Point-to-MultiPoint Gigabit Network
Unlike PLC systems that are typically point-to-point bridges, EtherMagic systems are point-to-multipoint networks. The EtherMagic Switch works the magic by networking up to 32 EndPoints, and essentially operates and performs like a 32-port Gigabit Ethernet switch.
Amazing Scalability
The EtherMagic system offers amazing network scalability – perhaps only limited by the number of available outlets in the building. An EtherMagic network can support up to 320 EndPoints: up to 10 Switches on the same electrical circuit, and up to 32 EndPoints paired to each Switch.
Advantage over Wireless
EtherMagic leverages HomePlug AV2* MIMO technology for robust PLC networking with speeds of up to 1200 Mbps. Rivaling wireless, EtherMagic significantly increases the reliability of high-bandwidth connections to all areas of the building.
Video applications especially benefit from the advantages of EtherMagic by being physically connected to the network, and free from radio interference or Wi-Fi connectivity issues.
Built-In PoE+ Capability
Each EndPoint features a Gigabit Ethernet port with PoE output capability. EndPoints provide the flexibility to set PoE output to support a variety of PoE devices:
802.3af/at Auto-Sensing (48V)
24V Passive PoE
PoE Off
By default, non-PoE devices can be safely connected to the EndPoints with auto-sensing 802.3af/at. For added assurance, PoE output can be disabled entirely
Specifications:
EtherMagic Switch: EM-S
Dimensions
107 x 62.4 x 31.7 mm (4.21 x 2.46 x 1.25")
Weight
135 g (4.76 oz)
Networking Interfaces
(1) PLC, 1200 Mbps
(1) RJ45, 10/100/1000 Mbps
Management Interface
EtherMagic App
PLC Standard
HomePlug AV2 MIMO
Power Method
AC Utility Power
Max. Power Consumption
6W
Network Expandability
Up to (10) EM-S per Electrical Circuit
Supported Voltage Range
100 to 240V
Operating Temperature
-10 to 45° C (14 to 113° F)
Operating Humidity
10 to 90% Noncondensing
Certifications
CE, FCC, IC
EtherMagic EndPoint: EM-EP
Dimensions
107 x 62.4 x 40.7 mm (4.21 x 2.46 x 1.60")
Weight
190 g (6.70 oz)
Networking Interfaces
(1) PLC, 1200 Mbps
(1) RJ45, PoE+, 10/100/1000 Mbps
Management Interface
EtherMagic App
PoE Out
Modes
PoE+ Voltage Range
Max. PoE+ Wattage
Passive PoE Voltage Range
Max. Passive PoE Wattage

802.3af/at (PoE+), 24V Passive, Off
48VDC Nominal
32W
24VDC
16W
PLC Standard
HomePlug AV2 MIMO
Power Method
AC Utility Power
Max. Power Consumption
8W (PoE Excluded)
Network Expandability
Up to (32) EM-EP per (1) EM-S
Supported Voltage Range
100 to 240V
Operating Temperature
-10 to 45° C (14 to 113° F)
Operating Humidity
10 to 90% Noncondensing
Certifications
CE, FCC, IC