Ubiquiti EdgeSwitch 8

8-Port Managed PoE+ Gigabit Switches with SFP

Ubiquiti Products
EdgeSwitch Series
EdgeSwitch 8 Port, 150 W
#ES-8-150W
Our Price: $199.00
Click here to jump to more pricing!
Overview:
Advanced Routing Technology for the Masses
Build and expand your network with Ubiquiti Networks EdgeSwitch, part of the EdgeMAX line of products. The EdgeSwitch is a fully managed, PoE+ Gigabit switch, delivering robust performance and intelligent switching for growing networks.
The EdgeSwitch offers an extensive suite of advanced Layer-2 switching features and protocols, and also provides Layer-3 routing capability.

The fanless EdgeSwitch 8 is a fully managed, high-performance, PoE+ Gigabit switch. It delivers powerful performance and intelligent switching with its 10 independent switching ports. A DC input option is included for flexibility.
EdgeSwitch 8 (150W Model)
Model: ES-8-150W
(8) Gigabit RJ45 Ports
(2) SFP Ports
(1) Serial Console Port
Non-Blocking Throughput: 10 Gbps
Switching Capacity: 20 Gbps
Forwarding Rate: 14.88 Mpps
Maximum Power Consumption: 150W
Supports POE+ IEEE 802.3at/af and 24V Passive PoE
Wallmountable with Mount Brackets (Included)
Desktop-Mountable (Do not physically stack the ES-8-150W)
DC Input Option (Redundant or Stand-Alone)
Switching Performance
The EdgeSwitch offers the forwarding capacity to simultaneously process traffic on all ports at line rate without any packet loss. The EdgeSwitch provides total, non-blocking throughput: 8-Port Model Up to 10 Gbps.
PoE+ Flexibility
The EdgeSwitch models are available with 8, 16, 24, or 48 PoE Gigabit Ethernet ports of auto-sensing IEEE 802.3af/at or configurable 24V Passive PoE to simplify your infrastructure. By default, the EdgeSwitch automatically detects 802.3af/at devices so they automatically receive PoE.
Fiber Connectivity
The EdgeSwitch provides fiber connectivity options for your growing networks. The 8, 16, and 24-port models include two SFP ports, providing up to 1 Gbps uplinks.
Features:
Gigabit Connectivity
The compact EdgeSwitch features a versatile port configuration: eight Gigabit Ethernet ports that support PoE+ and two SFP ports for fiber connectivity. It can be placed on a desktop or mounted on a wall.


Convenient PoE+ Support
Sharing a total of 150W, eight Gigabit Ethernet ports offer auto-sensing IEEE 802.3af/at PoE/PoE+ or 24V passive PoE to simplify your infrastructure.

Optical Fiber Backhaul
The EdgeSwitch provides fiber connectivity options for your growing networks. Two SFP ports provide uplinks of up to 1 Gbps.

Powerful Performance
The EdgeSwitch delivers robust switching performance with its total, non-blocking throughput of up to 10 Gbps.

Switching Capacity
The EdgeSwitch offers the forwarding capacity to simultaneously process traffic on all ports at line rate without any packet loss.
Advanced UI
The comprehensive UI is easy to learn and allows administrators to configure and monitor features in a graphical user interface. For advanced users, a Command-Line Interface (CLI) is available through telnet and SSH.

Deployment: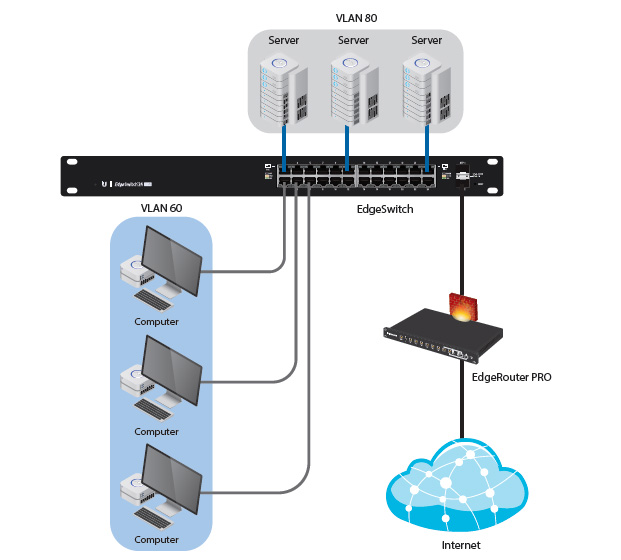 VLANs for Servers and Computers
The EdgeSwitch connects to the Ubiquiti EdgeRouter PRO via an SFP uplink.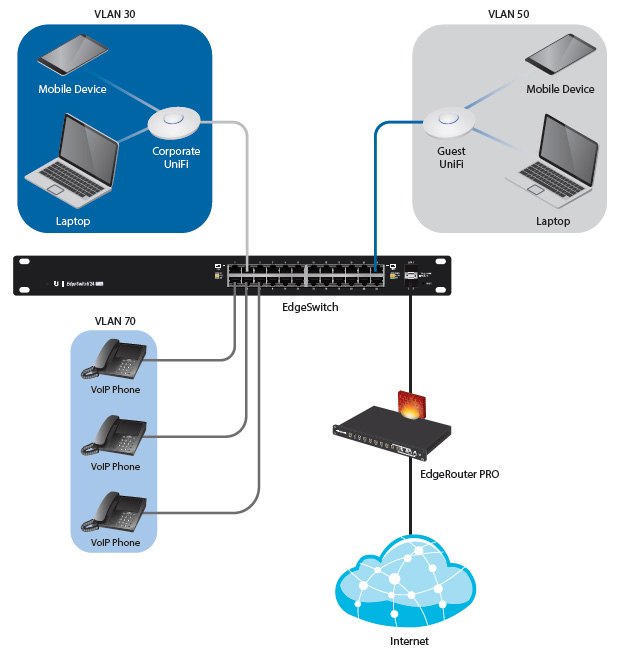 VLANs for Corporate Wireless, Guest Wireless, and VoIP
For wireless access, two Ubiquiti UniFi Access Points connect to the EdgeSwitch.
Product Views: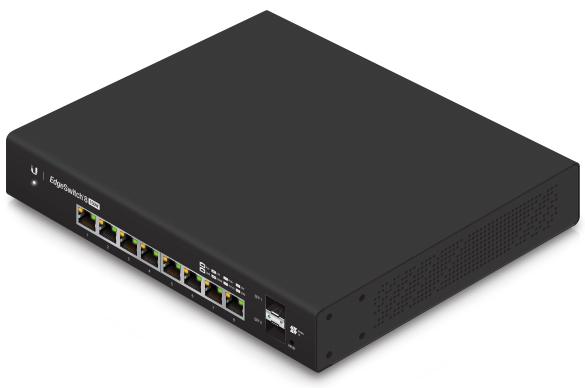 Angle View




Front View




Rear View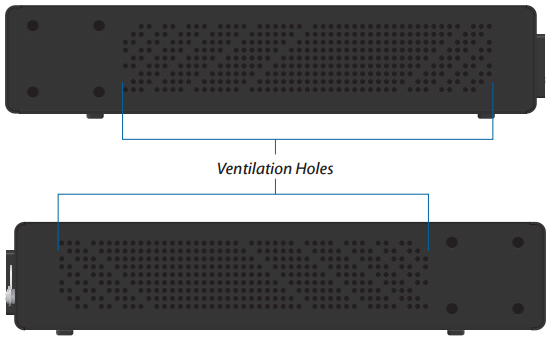 Side View




Ports/LED Zoom-In View


Specifications:


Front Panel View


Rear Panel View
EdgeSwitch 8 Specification
Dimensions
204 x 43 x 235 mm (8.03 x 1.69 x 9.25")
Weight
Without Mount Brackets: 1.72 kg (3.79 lb)
With Mount Brackets: 1.8 kg (3.96 lb)
Total Non-Blocking Throughput
10 Gbps
Switching Capacity
20 Gbps
Forwarding Rate
14.88 Mpps
Max. Power Consumption
Includes PoE Output: 150W
Excludes PoE Output: 20W
Power Method
AC: 100-240VAC/50-60 Hz, AC/DC Integrated PSU, Universal Input
DC: 42 to 56VDC External, (Self-Correcting Polarity Protection) Terminal Block Input
Power Supply
AC/DC, Internal, 150W DC
LEDs Per Port
RJ45 Data Ports: PoE, Speed/Link/Activity
SFP Data Ports: Speed/Link/Activity
Networking Interfaces
(8) 10/100/1000 Mbps RJ45 Ethernet Ports
(2) 1 Gbps SFP Ethernet Ports
Management Interface
(1) RJ45 Serial Port, Ethernet In/Out Band
Certifications
CE, FCC, IC
Wallmount
Yes
ESD/EMP Protection
Air: ±24 kV, Contact: ±24 kV
Operating Temperature
Internal AC/DC @ 150W: -25 to 45° C (-13 to 113° F)
Internal AC/DC @ 100W: -25 to 55° C (-13 to 131° F)
External DC: -25 to 60° C (-13 to 140° F)
Operating Humidity
5 to 95% Noncondensing
Shock and Vibration
ETSI300-019-1.4 Standard
PoE Per Port
PoE Interfaces
POE+ IEEE 802.3af/at (Pins 1, 2+; 3, 6-)
24VDC Passive PoE (Pins 4, 5+; 7, 8-)
Max. PoE+ Wattage per Port by PSE
34.2W
Voltage Range 802.3at Mode
50–57V
Max. Passive PoE Wattage per Port
17W
24V Passive PoE Voltage Range
20-27V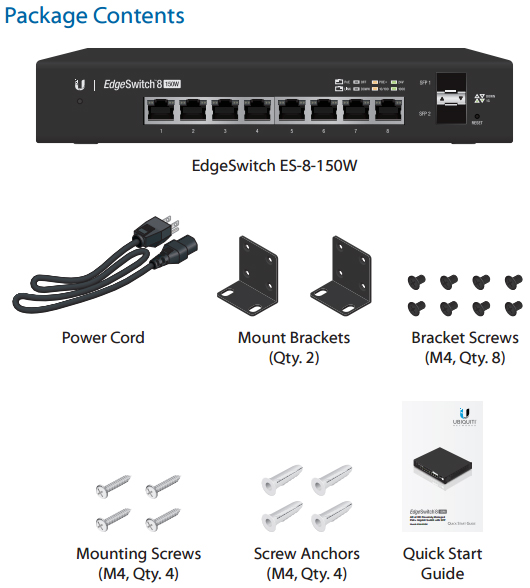 Software Specifications:
Software Information
Core Switching Features
ANSI/TIA-1057: LLDP-Media Endpoint Discovery (MED)
IEEE 802.1AB: Link Layer Discovery Protocol (LLDP)
IEEE 802.1D: Spanning Tree Compatibility
IEEE 802.1S: Multiple Spanning Tree Compatibility
IEEE 802.1W: Rapid Spanning Tree Compatibility
IEEE 802.1Q: Virtual LANs with Port-Based VLANs
IEEE 802.1p: Ethernet Priority with User Provisioning and Mapping
IEEE 802.1X: Port-Based Authentication with Guest VLAN Support
IEEE 802.3: 10BASE-T
IEEE 802.3u: 100BASE-T
IEEE 802.3ab: 1000BASE-T
IEEE 802.1ak: Virtual Bridged Local Area Networks - Amendment 07: Multiple Registration Protocol
IEEE 802.3ac: VLAN Tagging
IEEE 802.3ad: Link Aggregation
IEEE 802.3x: Flow Control
IEEE 802.1D-2004: Generic Attribute Registration Protocol: Clause 12 (GARP)
IEEE 802.1D-2004: Dynamic L2 multicast registration: Clause 10 (GMRP)
IEEE 802.1Q-2003: Dynamic VLAN registration: Clause 11.2 (GVRP)
RFC 4541: Considerations for Internet Group Management Protocol (IGMP) Snooping Switches
RFC 5171: Unidirectional Link Detection (UDLD) Protocol
Advanced Layer 2 Features
Broadcast Storm Recovery
Broadcast/Multicast/Unknown Unicast Storm Recovery
DHCP Snooping
IGMP Snooping Querier
Independent VLAN Learning (IVL) Support
Jumbo Ethernet Frame Support
Port MAC Locking
Port Mirroring
Protected Ports
Static MAC Filtering
TACACS+
Voice VLANs
Unauthenticated VLAN
Internal 802.1X Authentication Server
Platform Specifications
VLANs: 255
MAC Addresses: 8k
MSTP Instances: 4
LAGs: 6
ACLs: 100 with 10 Rules per Port
Traffic Classes (Queues): 8
Management
Web UI
Industry-Standard CLI
IPv6 Management
Password Management
Autoinstall Support for Firmware Images and Configuration Files
SNMP v1, v2, and v3
SSH 1.5 and 2.0
SSL 3.0 and TLS 1.0
Secure Copy (SCP)
Telnet (Multi-Session Support)
System Facilities
Event and Error Logging Facility
Run-Time and Configuration Download Capability
PING Utility
FTP/TFTP Transfers via IPv4/IPv6
Malicious Code Detection
BootP and DHCP
RFC 2021: Remote Network Monitoring Management Information Base Version 2
RFC 2030: Simple Network Time Protocol (SNTP)
RFC 2819: Remote Network Monitoring Management Information Base
RFC 2865: RADIUS Client
RFC 2866: RADIUS Accounting
RFC 2868: RADIUS Attributes for Tunnel Protocol Support
RFC 2869: RADIUS Extensions
RFC 3579: RADIUS Support for EAP
RFC 3580: IEEE 802.1X RADIUS Usage Guidelines
RFC 3164: BSD Syslog Protocol
Layer 3 Routing
Static Routing
Policy Based Routing
QoS
Access Control Lists (ACLs), Permit/Deny Actions for Inbound IP and Layer 2 Traffic Classification Based on:

Time-Based ACL
Source/Destination IP Address
TCP/UDP Source/Destination Port
IP Protocol Type
Type of Service (ToS) or Differentiated Services (DSCP) Field
Source/Destination MAC Address
EtherType
IEEE 802.1p User Priority
VLAN ID
RFC 1858: Security Considerations for IP Fragment Filtering

Optional ACL Rule Attributes

Assign Flow to a Specific Class of Service (CoS) Queue
Redirect Matching Traffic Flows

Differentiated Services (DiffServ)

Classify Traffic Based on Same Criteria as ACLs
Mark the IP DSCP or Precedence Header Fields, Optional
Police the Flow to a Specific Rate with Two-Color Aware Support
RFC 2474: Definition of the Differentiated Services Field (DS field) in the IPv4 and IPv6 Headers
RFC 2475: An Architecture for Differentiated Services
RFC 2597: Assured Forwarding Per-Hop Behavior (PHB) Group
RFC 3246: An Expedited Forwarding PHB
RFC 3260: New Terminology and Clarifications for DiffServ

Class of Service (CoS) Queue Mapping Configuration

AutoVoIP: Automatic CoS Settings for VoIP
IP DSCP-to-Queue Mapping
Configurable Interface Trust Mode (IEEE 802.1p, DSCP, or Untrusted)
Interface Egress Shaping Rate
Strict Priority versus Weighted Scheduling per Queue
Software:


EdgeMAX Software Platform
EdgeOS provides an intuitive, easy-to-use graphical user interface that makes router features simple to configure and monitor. It even comes with an integrated command-line interface (CLI) right in the browser, allowing access to all the advanced functions of the router.

Packed with Features
IPv4/v6 addressing, DHCP client and server, VLANs Static routes, OSPF, RIP, BGP
Firewall (ACL-based and zone-based), NAT, QoS
VPN: IPsec, L2TP, OpenVPN, PPTP client and server
PPPoE client and server, bridging, bonding, GRE, VRRP
Dynamic DNS, DNS forwarding, DHCP relay
Intuitive and Powerful Graphical User Interface
The Web-based graphical user interface in the EdgeOS is developed using the latest advanced Web technologies and provides powerful functionality with high efficiency. You can reorder firewall rules using drag-and-drop, monitor interface statistics in real time, and even open a command-line interface (CLI) right in the browser.
Broad Feature Set
The EdgeOS software includes all common routing features and more. You can create VLAN, bridging, bonding, and tunnel interfaces, use OSPF, RIP, and BGP routing protocols, apply ACL-based or zone-based firewall for security, and choose from IPsec, OpenVPN, L2TP, or PPTP for your VPN needs. All features are managed with a single unified configuration that can be accessed from both the Web GUI and the CLI.
Open Platform
The EdgeOS platform is not just a router operating system. It is also an open platform based on theDebian Linux distribution. You have complete system-level access including the whole filesystem hierarchy, real shell, root user, etc. Existing Debian packages can be installed on the system, and you can even build your own packages using standard tools.
Debian is a registered trademark of Software in the Public Interest, Inc.
Powerful Features
EdgeOS™ is a sophisticated operating system loaded with robust features, including:
Static routes and support of routing protocols: OSPF, RIP, and BGP
Firewall policies and NAT rules
DHCP services
Quality of Service (QoS)
Network administration and monitoring tools
Comprehensive IPv6 support
Choice of configuration methods: the graphical user interface to visualize the workings of your network or the Command Line Interface (CLI) to use advanced, command-driven configuration
Configuration by CLI
The CLI provides quick and flexible configuration by command line and features the following:
For power users, configuration and monitoring of all advanced features
Direct access to standard Linux tools and shell commands
CLI access through the serial console port, SSH, Telnet, and the graphical user interface
EdgeOS Specifications
Interface/Encapsulation
Ethernet
802.1q VLAN
PPPoE
GRE
IP in IP
Bridging
Bonding (802.3ad)
Addressing
Static IPv4/IPv6 Addressing
DHCP/DHCPv6
Routing
Static Routes
OSPF/OSPFv3
RIP/RIPng
BGP (with IPv6 Support)
IGMP Proxy
Security
ACL-Based Firewall
Zone-Based Firewall
Application Identification with Deep Packet Inspection (DPI)
NAT
VPN
IPSec Site-to-Site and Remote Access
OpenVPN Site-to-Site and Remote Access
PPTP Remote Access
L2TP Remote Access
PPTP Client
Services
DHCP/DHCPv6 Server
DHCP/DHCPv6 Relay
Dynamic DNS
DNS Forwarding
VRRP
RADIUS Client
Web Caching
PPPoE Server
QoS
FIFO
Stochastic Fairness Queueing
Random Early Detection
Token Bucket Filter
Deficit Round Robin
Hierarchical Token Bucket
Ingress Policing
Management
Web UI
CLI (Console, SSH, Telnet)
SNMP
NetFlow
LLDP
NTP
UBNT Discovery Protocol
Logging
Miscellaneous: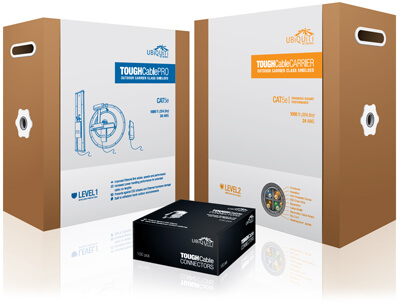 Protect your networks from the most brutal environments with Ubiquiti's industrialgrade shielded ethernet cable, TOUGHCable.
Increase Performance - Dramatically improve your ethernet link states, speeds, and overall performance with Ubiquiti TOUGHCables.
Extreme Weatherproof - TOUGHCables have been built to perform even in the harshest weather and environments.
ESD Damage Protection - Protect your networks from devastating electrostatic discharge (ESD) attacks.
Extended Cable Support - TOUGHCables have been developed to have increased power handling performance for extended cable run lengths.
Bulletproof your networks
TOUGHCable is currently available in two versions: PRO Shielding Protection and CARRIER Shielding Protection.
TOUGHCable PRO is a Category 5e, outdoor, carrier-class shielded cable with an integrated ESD drain wire.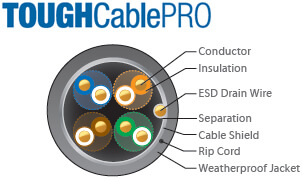 TOUGHCable CARRIER is a Category 6, outdoor, carrier-class shielded cable that features an integrated ESD drain wire, anti-crosstalk divider, and secondary shielding. It is rated to provide optimal performance on Gigabit Ethernet networks.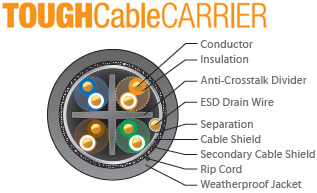 Additional Information:
24 AWG copper conductor pairs
26 AWG integrated ESD drain wire to prevent ESD attacks and damage
PE outdoor-rated, weatherproof jacket
Multi-layered shielding
Available in lengths of 1000 ft (304.8 m)
TOUGHCable Connectors
Specifically designed for use with Ubiquiti TOUGHCables and available in 100 pc. bags, TOUGHCable Connectors protect against ESD attacks and Ethernet hardware damage while allowing rapid field deployment without soldering.
ESD attacks are the leading cause for device failures. The diagram below illustrates the areas vulnerable to ESD attacks in a network.
By using a grounded Ubiquiti Power over Ethernet (PoE) Adapter along with Ubiquiti TOUGHCable and TOUGHCable Connectors, you can effectively protect against ESD attacks.
Pricing Notes:
Pricing and product availability subject to change without notice.
EdgeSwitch Series
EdgeSwitch 8 Port, 150 W
#ES-8-150W
Our Price: $199.00
TOUGHCable
UISP Cable Pro
#UISP-CABLE-PRO
Our Price: $135.00
UISP Cable Carrier
#UISP-CABLE-CARRIER
Our Price: $180.00
Ubiquiti TOUGHCable Connectors
1 Box of 100 PCs, Category 5 RJ-45 Plug, Shielded
#TC-CON
Our Price: $50.00