Ubiquiti EdgeRouter Pro

Advanced 8-Port Network Router with 2 Gigabit RJ45/SFP Combination Ports

Sorry, this product is no longer available, Please contact us for a replacement.
Overview:
The EdgeRouter™ PRO combines 2 million+ packets per second performance with fiber connectivity options.
Advanced Routing Technology for the Masses
Introducing the EdgeRouter from Ubiquiti Networks, part of the EdgeMAX platform. EdgeRouters combine carrier-class reliability with enterprise-level features in a compact and affordable unit. Available in a rackmountable form factor with eight functional ports, the EdgeRouter Pro and 8-Port EdgeRouter models are capable of routing up to 2 million+ packets per second. Powered by a proprietary and intuitive graphical interface, EdgeOS, EdgeRouters can easily be configured for routing, security, and management features required to efficiently run your network. For advanced network professionals, an integrated CLI is available for quick and direct access using familiar commands.

(6) Gigabit routing ports
(2) Gigabit RJ45/SFP combination ports
2 million+ packets per second for 64-byte packets
8 Gbps for packets 512 bytes or larger in size
Rackmountable
Power supply: 100-240VAC 12VDC 1A US-style plug

Powerful Functionality
Full-featured routing functionality for limitless applications.

Advanced User Interface
Next-generation user experience allows anyone to quickly become a routing expert.

Carrier-Class Reliability
Uptime performance equivalent to leading carrier and enterprise solutions.
Manage Your Network
DHCP Server
Set up multiple DHCP servers to assign IP ranges in different subnets on the different interfaces. Easily control dynamic and static IP addressing for your network devices.
Monitoring Tools
Conveniently track network activity and devices from tools such as Ping, Trace, Discover, Packet Capture, and Log Monitor.
User Accounts
Manage access to the EdgeRouter Lite using unique administrator and operator accounts.
Secure Your Network
Firewall Policies
Organize the rules you apply in the order you specify.
Firewall Groups
Apply the policies to groups filtered by IP address, network address, or port number.
NAT Rules
The EdgeRouter Lite changes packet addressing based on your customized source and destination NAT rules.
Direct Traffic Flow
Interfaces
Each Gigabit port functions as an independent interface. You can also configure Virtual Local Area Network (VLAN) interfaces to meet your network segmentation requirements.
Routing
Configure static routes and dynamic routing protocols to effectively manage the routes used by the EdgeRouter.
With these capabilities and more, the EdgeRouter provides the centralized control you need to optimize the performance and reliability of your network.
Features:
Powerful Routing Performance
The EdgeRouter™ PRO routes up to 2 million+ packets per second. Use its advanced features to run applications on the customizable open platform.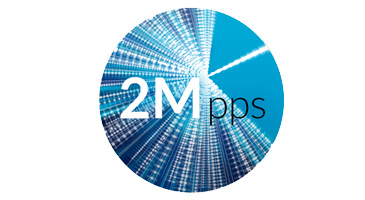 Carrier-Class Reliability
The EdgeRouter™ delivers uptime performance equal to leading carrier or enterprise technology solutions.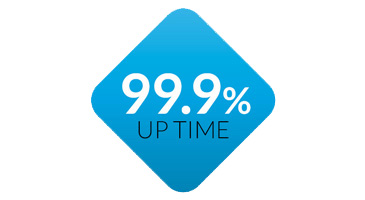 Versatile Gigabit Connectivity
The EdgeRouter™ PRO provides six independent, RJ45 Gigabit ports and two RJ45/SFP combination Gigabit ports.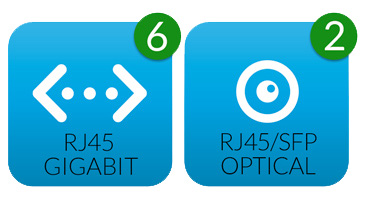 Convenient Rackmount Design
The durable, 1U-high metal chassis allows for convenient mounting in a standard-sized, 19"-wide rack.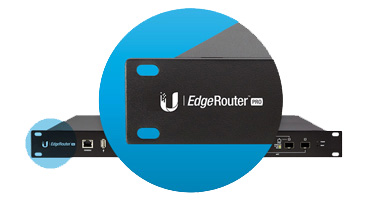 EdgeOS™ - Advanced UI
The intuitive, graphical user interface is easy to learn and makes routing features simple to configure and monitor. It includes an integrated Command-Line Interface (CLI) for convenient access to advanced functions.

Deployment: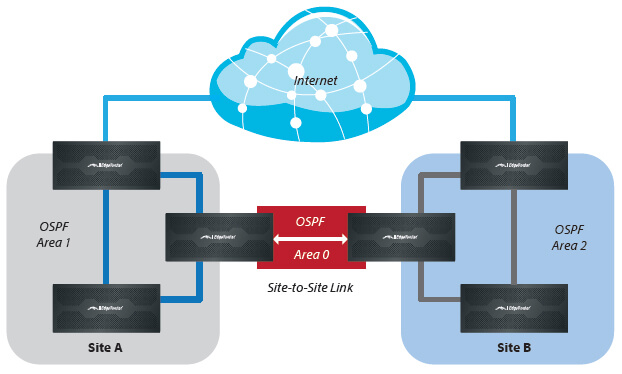 Typical Service Provider Deployment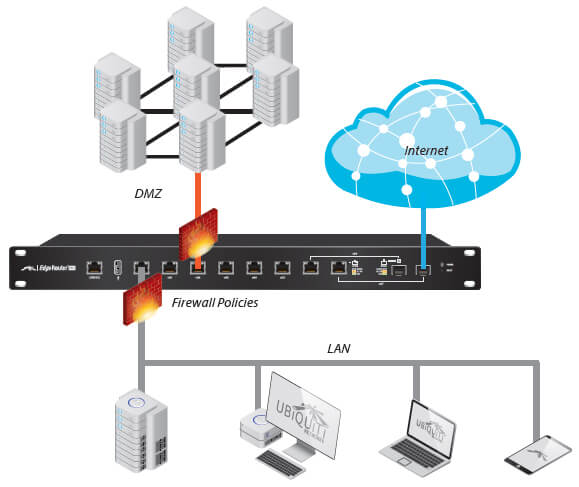 Example of Enterprise Deployment with SFP Connection to the Internet
Product Views: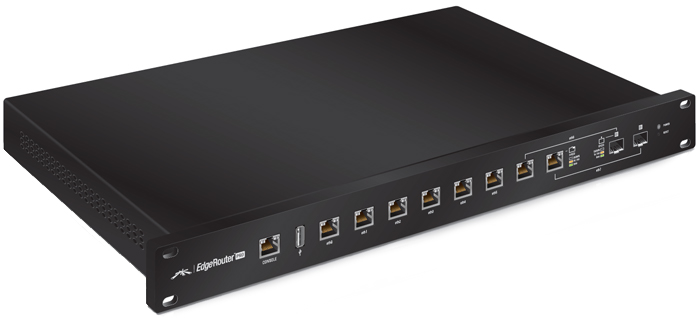 Angle View


Front View




Rear View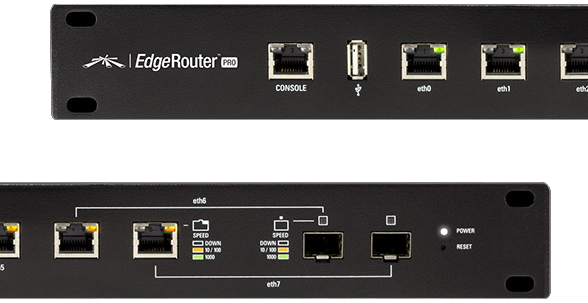 Ports/LED Zoom-In View
Specifications:


EdgeRouter Pro Specification
Dimensions
484 x 164 x 44 mm (19.06 x 6.46 x 1.73 in)
Weight
2.3 kg (5.07 lb)
Power
40 W
Power Method
Internal AC/DC Power Adapter, 60 W (24V, 2.5A)
Power Supply
110 - 240VAC
Button
Reset
LED
Power
Processor
Dual-Core 1 GHz, MIPS64 with Hardware Acceleration for Packet Processing
System Memory
2 GB DDR3 RAM
Onboard Flash Storage
4 GB
Certifications
CE, FCC, IC
Wall-Mount
Yes
Operating Temperature
-10 to 45°C (14 to 113°F)
Operating Humidity
10 - 90% Non-Condensing
Layer 3 Forwarding Performance
Packet Size: 64 Bytes
2,400,000 pps
Packet Size: 512 Bytes or Larger
8 Gbps (Line Rate)
LEDs Per Port
Serial Console Port
Power
Data Ports
Speed/Link/Activity
Networking Interfaces
Serial Console Port
(1) RJ45 Serial Port
Data Ports
(6) 10/100/1000 RJ45 Ports
(2) 10/100/1000 RJ45/SFP Combination Ports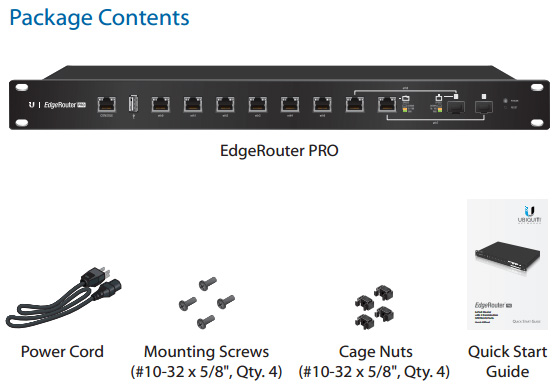 Software:


EdgeMAX Software Platform
EdgeOS provides an intuitive, easy-to-use graphical user interface that makes router features simple to configure and monitor. It even comes with an integrated command-line interface (CLI) right in the browser, allowing access to all the advanced functions of the router.

Packed with Features
IPv4/v6 addressing, DHCP client and server, VLANs Static routes, OSPF, RIP, BGP
Firewall (ACL-based and zone-based), NAT, QoS
VPN: IPsec, L2TP, OpenVPN, PPTP client and server
PPPoE client and server, bridging, bonding, GRE, VRRP
Dynamic DNS, DNS forwarding, DHCP relay
Intuitive and Powerful Graphical User Interface
The Web-based graphical user interface in the EdgeOS is developed using the latest advanced Web technologies and provides powerful functionality with high efficiency. You can reorder firewall rules using drag-and-drop, monitor interface statistics in real time, and even open a command-line interface (CLI) right in the browser.
Broad Feature Set
The EdgeOS software includes all common routing features and more. You can create VLAN, bridging, bonding, and tunnel interfaces, use OSPF, RIP, and BGP routing protocols, apply ACL-based or zone-based firewall for security, and choose from IPsec, OpenVPN, L2TP, or PPTP for your VPN needs. All features are managed with a single unified configuration that can be accessed from both the Web GUI and the CLI.
Open Platform
The EdgeOS platform is not just a router operating system. It is also an open platform based on theDebian Linux distribution. You have complete system-level access including the whole filesystem hierarchy, real shell, root user, etc. Existing Debian packages can be installed on the system, and you can even build your own packages using standard tools.
Debian is a registered trademark of Software in the Public Interest, Inc.
Powerful Features
EdgeOS™ is a sophisticated operating system loaded with robust features, including:
Static routes and support of routing protocols: OSPF, RIP, and BGP
Firewall policies and NAT rules
DHCP services
Quality of Service (QoS)
Network administration and monitoring tools
Comprehensive IPv6 support
Choice of configuration methods: the graphical user interface to visualize the workings of your network or the Command Line Interface (CLI) to use advanced, command-driven configuration
Configuration by CLI
The CLI provides quick and flexible configuration by command line and features the following:
For power users, configuration and monitoring of all advanced features
Direct access to standard Linux tools and shell commands
CLI access through the serial console port, SSH, Telnet, and the graphical user interface
EdgeOS Specifications
Interface/Encapsulation
Ethernet
802.1q VLAN
PPPoE
GRE
IP in IP
Bridging
Bonding (802.3ad)
Addressing
Static IPv4/IPv6 Addressing
DHCP/DHCPv6
Routing
Static Routes
OSPF/OSPFv3
RIP/RIPng
BGP (with IPv6 Support)
IGMP Proxy
Security
ACL-Based Firewall
Zone-Based Firewall
Application Identification with Deep Packet Inspection (DPI)
NAT
VPN
IPSec Site-to-Site and Remote Access
OpenVPN Site-to-Site and Remote Access
PPTP Remote Access
L2TP Remote Access
PPTP Client
Services
DHCP/DHCPv6 Server
DHCP/DHCPv6 Relay
Dynamic DNS
DNS Forwarding
VRRP
RADIUS Client
Web Caching
PPPoE Server
QoS
FIFO
Stochastic Fairness Queueing
Random Early Detection
Token Bucket Filter
Deficit Round Robin
Hierarchical Token Bucket
Ingress Policing
Management
Web UI
CLI (Console, SSH, Telnet)
SNMP
NetFlow
LLDP
NTP
UBNT Discovery Protocol
Logging
Miscellaneous: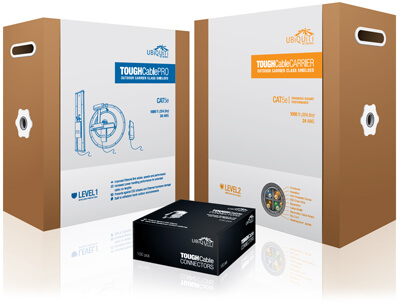 Protect your networks from the most brutal environments with Ubiquiti's industrialgrade shielded ethernet cable, TOUGHCable.
Increase Performance - Dramatically improve your ethernet link states, speeds, and overall performance with Ubiquiti TOUGHCables.
Extreme Weatherproof - TOUGHCables have been built to perform even in the harshest weather and environments.
ESD Damage Protection - Protect your networks from devastating electrostatic discharge (ESD) attacks.
Extended Cable Support - TOUGHCables have been developed to have increased power handling performance for extended cable run lengths.
Bulletproof your networks
TOUGHCable is currently available in two versions: PRO Shielding Protection and CARRIER Shielding Protection.
TOUGHCable PRO is a Category 5e, outdoor, carrier-class shielded cable with an integrated ESD drain wire.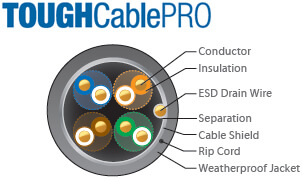 TOUGHCable CARRIER is a Category 6, outdoor, carrier-class shielded cable that features an integrated ESD drain wire, anti-crosstalk divider, and secondary shielding. It is rated to provide optimal performance on Gigabit Ethernet networks.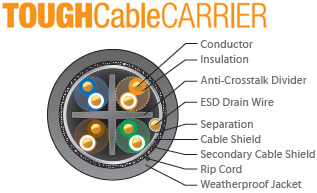 Additional Information:
24 AWG copper conductor pairs
26 AWG integrated ESD drain wire to prevent ESD attacks and damage
PE outdoor-rated, weatherproof jacket
Multi-layered shielding
Available in lengths of 1000 ft (304.8 m)
TOUGHCable Connectors
Specifically designed for use with Ubiquiti TOUGHCable, TOUGHCable Connectors protect against ESD attacks and Ethernet hardware damage, while allowing rapid field deployment without soldering. The standard TOUGHCable Connectors are available in a box of 100, while the TC-GND versions include ground wires and are available in a box of 20.
ESD attacks are the leading cause for device failures. The diagram below illustrates the areas vulnerable to ESD attacks in a network.
By using a grounded Ubiquiti Power over Ethernet (PoE) Adapter along with Ubiquiti TOUGHCable and TOUGHCable Connectors, you can effectively protect against ESD attacks.