Ubiquiti EdgeRouter 6P

Advanced Routing Technology for the Masses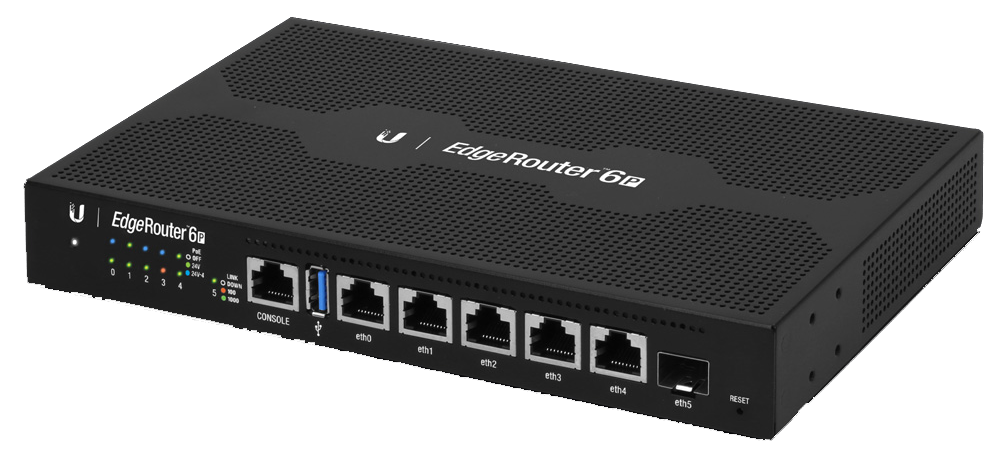 Ubiquiti Products
EdgeMAX EdgeRouter 6P Series
Click here to jump to more pricing!
Overview:
Advanced Routing Technology for the Masses
Ubiquiti Networks introduces the EdgeRouter™ 4 and EdgeRouter 6P, the next generation of routers for the EdgeMAX®platform. EdgeRouters combine carrier-class reliability with enterprise-level features in a compact and affordable unit.
The EdgeRouter 4 and EdgeRouter 6P offer Gigabit Ethernet ports and an SFP port for a fiber link. The EdgeRouter 6P also offers five configurable PoE ports to power airMAX® products.
The EdgeRouter 4 and EdgeRouter 6P are each capable of routing up to 3.4 million packets per second. The EdgeRouter 4 has a line rate of 4 Gbps, while the EdgeRouter 6P has a line rate of 6 Gbps.
Powered by a proprietary and intuitive graphical interface, EdgeOS®, EdgeRouters can easily be configured for routing, security, and management features required to efficiently run your network. For advanced network professionals, an integrated CLI is available for quick and direct access using familiar commands.
Even greater convenience and flexibility is provided by the UNMS app, which makes it possible to manage the EdgeRouter remotely from your mobile device.
Manage Your Network
DHCP Server Set up multiple DHCP servers to assign IP ranges in different subnets on the different interfaces.
Easily control dynamic and static IP addressing for your network devices.
Monitoring Tools Conveniently track network activity and devices from tools such as Ping, Trace, Discover, Packet Capture, and Log Monitor.
Secure Your Network
Firewall Policies Organize the rules you apply in the order you specify.
Firewall Groups Apply the policies to groups filtered by IP address, network address, or port number.
NAT Rules The EdgeRouter changes packet addressing based on your customized source and destination NAT rules.
Direct Traffic Flow
Interfaces Each port functions as an independent interface.
You can also configure Virtual Local Area Network (VLAN) interfaces for network segmentation.
Routing Configure static routes and dynamic routing protocols to effectively manage the routes used by the EdgeRouter.
Specifications:
Hardware Specifications
ER-6P
Dimensions
229 x 136.5 x 31.1 mm (9.02 x 5.37 x 1.22 in)
Weight
730 g (1.61 lb)
Max. Power Consumption
16 W (Excludes PoE Output)
Power
External AC Power Adapter, 60W (24V, 2.5A)
Power Input
110 - 240VAC
Button
Reset
LEDs
Data Ports
SFP Data Port

Speed/Link/Activity, PoE
Link/Activity
Networking Interfaces
Management

Networking

(1) RJ45 Serial Port (6) Ethernet Ports (Default eth0)
(5) 10/100/1000 RJ45 Ports with PoE
(1) 1 Gbps SFP Port
Processor
4-Core 1 GHz, MIPS64
System Memory
1 GB DDR3 RAM
On-Board Flash Storage
4 GB eMMC, 8 MB SPI NOR
Rack-Mountable
Yes
Operating Temperature
-10 to 50° C (14 to 122° F)
Operating Humidity
10 - 90% Noncondensing
Certifications
CE, FCC, IC
PoE with 24VDC Power Adapter
PoE Interfaces
(5) 24V Passive PoE Ports, 2-pair (4, 5+; 7, 8-) and 4-pair
Passive PoE Max. Wattage Per Port
24W (24V/1A, 4-pair)
Voltage Range Passive PoE
24V
Pricing Notes:
Pricing and product availability subject to change without notice.
Ubiquiti Products
EdgeMAX EdgeRouter 6P Series