Ubiquiti Amplifi Teleport

The Home Wi-Fi that Covers the World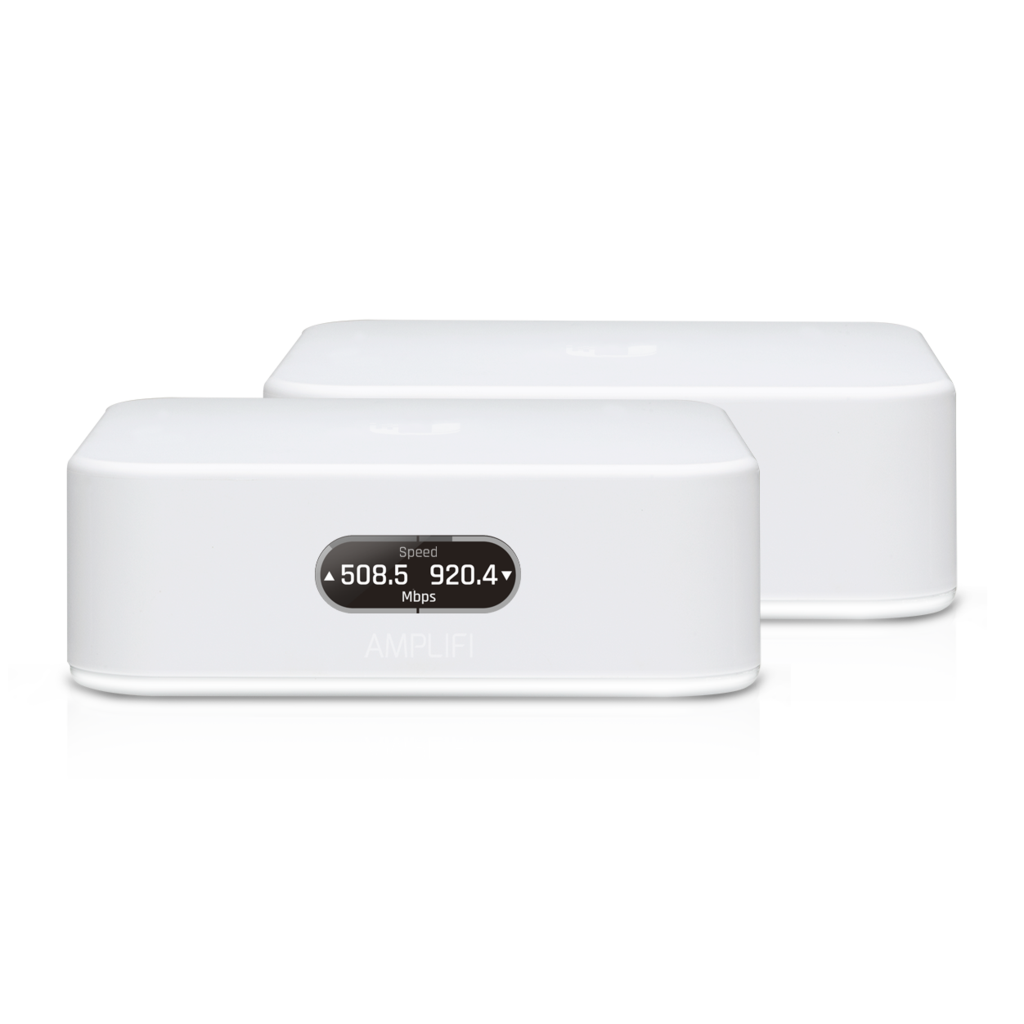 Sorry, this product is no longer available, please contact us for a replacement.
Overview:
AmpliFi™ Teleport provides a secure and convenient way to access resources at home, even when you are not. Utilizing any Wi-Fi hotspot or wired Ethernet connection, Teleport is able to create an encrypted connection to your home network, expanding it wherever you go.
Teleport works in two parts – an AmpliFi HD Router runs your home network and Wi-Fi while AmpliFi Teleport, which is a portable hardware extension to the router, makes the home network and its internet connection available from a different location.
The AmpliFi HD Router has a dual-band 802.11ac 3x3 MIMO Wi-Fi, multiple self-configuring radios and advanced antenna technology, bringing full Wi-Fi coverage throughout your home.
AmpliFi Teleport is a compact, portable plug-in device that provides both an Ethernet port and Wi-Fi connectivity, either of which can be used to connect to the internet or simply network your devices together.
Perfected User Experience
The intuitive AmpliFi app allows instant setup, configuration, powerful reporting metrics, parental controls, remote access, and easy guest access. The mobile app is available for download on Android and iOS smartphones.
Teleport While Traveling
Whether you are traveling for business or pleasure, use AmpliFi Teleport wherever you go and feel secure knowing you are still connected to your home. Watch your local programs and content, video call and connect with family, or check your smart home security from any Wi-Fi enabled device. Teleport allows you easy access while you are away from the most important place - your home.
Specifications:
Teleport Specifications
Dimensions
43.00 x 75.85 x 38.85 mm (1.69 x 2.95 x 1.53")
Weight
80 g (2.82 oz)
Max. TX Power
19 dBm
Speed
300 Mbps
ESD/EMP Protection
± 24kV Air/Contact
Buttons
Reset
Antennas
(2) Dual-Band
Wi-Fi Standards
802.11 a/b/g/n
Wireless Security
WPA2-PSK AES/TKIP
Operating Temperature
14 to 131° F (-10 to 55° C)
Operating Humidity
5 to 95% Noncondensing
Certifications
FCC / CE / IC
MeshPoint Specifications
Dimensions
99.5 x 97.8 x 99.6 mm (3.91 x 3.85 x 3.92")
Weight
410 g (14.46 oz)
Max. TX Power
26 dBm
Radios
2
MIMO Chains
6
Speed
1750 Mbps
Networking Interface
Wi-Fi/Gigabit Ethernet (1) WAN, (4) LAN
Max. Power Consumption
11W
ESD/EMP Protection
± 24kV Air/Contact
Buttons
Reset
Antennas
(1) Dual-Band Antenna, Tri-Polarity
Display
40.6 mm (1.6") Diagonal, 240 x 240, 212 ppi, G+F Touch, Full Color
Wi-Fi Standards
802.11ac
Power Save
Supported
Wireless Security
WPA2-PSK AES/TKIP
Operating Temperature
14 to 131° F (-10 to 55° C)
Operating Humidity
5 to 95% Noncondensing
Certifications
FCC / CE / IC
Supported Data Rates
802.11ac
13 Mbps to 1300 Mbps (MCS0 - MCS9, VHT 20/40/80)
802.11n
6.5 Mbps to 450 Mbps (MCS0 - MCS23, HT 20/40)
802.11a
6, 9, 12, 18, 24, 36, 48, 54 Mbps
802.11b
1, 2, 5.5, 11 Mbps
802.11g
6, 9, 12, 18, 24, 36, 48, 54 Mbps