Ubiquiti Amplifi Mesh Wifi System

Complete Home Wi-Fi System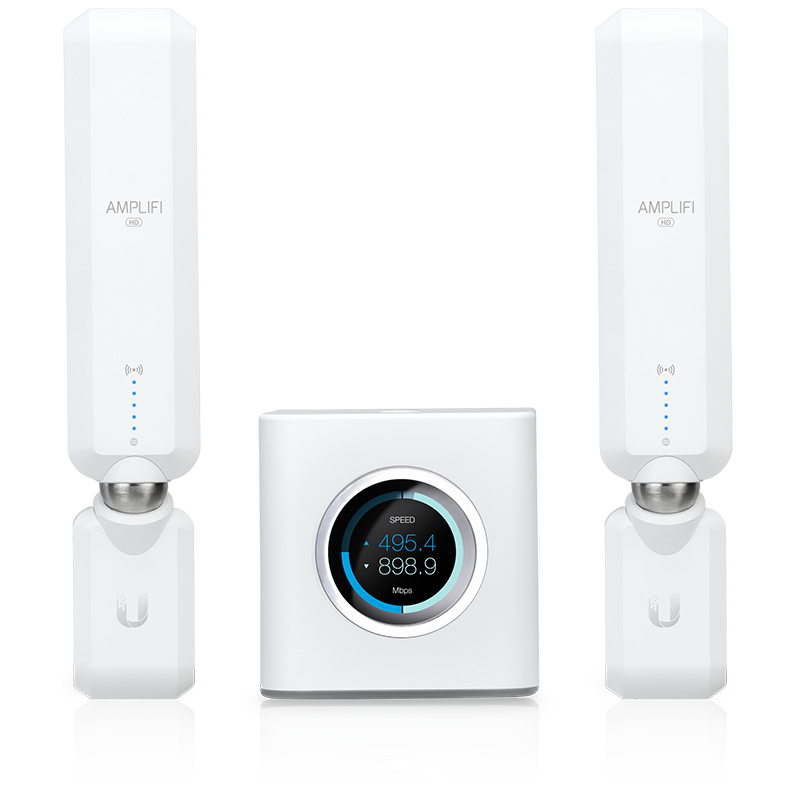 Sorry, this product is no longer available, Please contact us for a replacement.
Overview:
AmpliFi Routers and MeshPoints are designed to work in combination to eliminate any dead spots in your home. They utilize mesh technology to provide powerful wireless performance in an innovative and simple design. The Router features an intuitive touchscreen display and the MeshPoints display wireless signal performance.
MESH WI-FI SYSTEM
The AmpliFi HD (High Density) Mesh Wi-Fi System includes an AmpliFi Mesh Router and two wireless MeshPoints. It combines deployment flexibility and maximum Wi-Fi coverage for your home.
MESH ROUTER
The AmpliFi HD (High Density) Mesh Router takes advantage of AmpliFi's powerful performance and software features. Optionally, you can connect additional AmpliFi Mesh Routers or AmpliFi MeshPoints to expand range coverage.
MESHPOINT
The AmpliFi HD (High Density) MeshPoint features an adjustable super antenna. It can be used to expand the coverage of an AmpliFi Mesh System or turn an existing router or Wi-Fi cablebox into a powerful mesh network.
Specifications:
Router Specifications
Dimensions
99.5 x 97.8 x 99.6 mm (3.91 x 3.85 x 3.92")
Weight
410 g (14.46 oz)
Max. TX Power
26 dBm
Radios
2
MIMO Chains
6
Speed
1750 Mbps
Networking Interface
Wi-Fi/Gigabit Ethernet (1) WAN, (4) LAN
Max. Power Consumption
11W
ESD/EMP Protection
± 24kV Air/Contact
Buttons
Reset
Antennas
(1) Dual-Band Antenna, Tri-Polarity
Display
40.6 mm (1.6") Diagonal, 240 x 240, 212 ppi, G+F Touch, Full Color
Wi-Fi Standards
802.11ac
Power Save
Supported
Wireless Security
WPA2-PSK AES/TKIP
Operating Temperature
14 to 131° F (-10 to 55° C)
Operating Humidity
5 to 95% Noncondensing
Certifications
FCC / CE / IC
MeshPoint Specifications
Dimensions
243.83 x 54 x 57.75 (9.60 x 2.13 x 2.27")
Weight
224 g (7.90 oz)
Max. TX Power
26 dBm
Radios
2
MIMO Chains
6
Speed
1750 Mbps
ESD/EMP Protection
± 24kV Air/Contact
Buttons
Reset
Antennas
(1) Dual-Band Antenna, Tri-Polarity
Wi-Fi Standards
802.11ac
Power Save
Supported
Wireless Security
WPA2-PSK AES/TKIP
Operating Temperature
14 to 131° F (-10 to 55° C)
Operating Humidity
5 to 95% Noncondensing
Certifications
FCC / CE / IC
Supported Data Rates
802.11ac
13 Mbps to 1300 Mbps (MCS0 - MCS9, VHT 20/40/80)
802.11n
6.5 Mbps to 450 Mbps (MCS0 - MCS23, HT 20/40)
802.11a
6, 9, 12, 18, 24, 36, 48, 54 Mbps
802.11b
1, 2, 5.5, 11 Mbps
802.11g
6, 9, 12, 18, 24, 36, 48, 54 Mbps