Ubiquiti airFiber 11FX

5 GHz Full Duplex Point-to-Point Gigabit Radio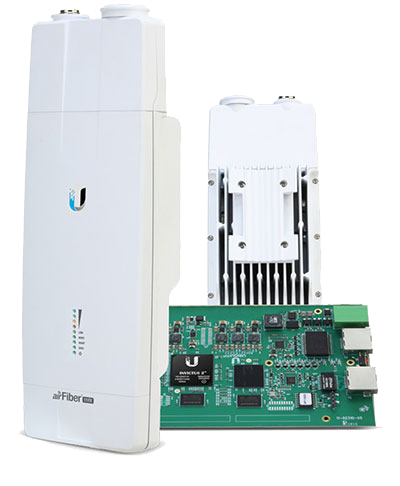 Ubiquiti airFiber
airFiber Series
AirFiber 11FX High Band Duplexer Accessory
#AF-11FX-DUP-H
Our Price: $199.00
AirFiber 11FX Low Band Duplexer Accessory
#AF-11FX-DUP-L
Our Price: $199.00
AirFiber Dish, 11GHz, 35dBi
#AF-11G35
Our Price: $379.00
Click here to jump to more pricing!
Overview:
Ubiquiti Networks continues to disrupt the wireless broadband market with revolutionary technology at breakthrough pricing, by introducing the airFiber® AF‑11FX, a radio purpose-built for outdoor PtP bridging and carrier-class network backhauls using the licensed 11 GHz radio band. The AF‑11FX breaks free from the congested 5 GHz band to help meet the growing need for broadband capacity. For maximum flexibility, the airFiber AF‑11FX works with the Ubiquiti® AF-11G35 antenna, or with most third-party antennas using an optional adapter kit (not included).
Groundbreaking Design
The AF-11FX gives exceptional performance compared to other 11 GHz radios in its price range. Unlike other products that use adaptations of Wi-Fi-based designs, the AF-11FX is specially engineered for the 11 GHz band, with a custom modem and radio design optimized for the efficient transport of data. Specific advantages of the AF‑11FX include:
True Full-Duplex Design - The AF‑11FX offers a true FDD solution that fully satisfies all licensing requirements for the 11 GHz band.
Ultra-Low Latency - Overall customer experience and system capacity are enhanced with FDD performance.
Enhanced Robustness - The AF‑11FX features a unique, built-in, rain-fade mitigation strategy for increased link robustness.
Extended Range - The RF power amplifiers feature a unique bias scheme, allowing high-order constellations at longer ranges.
Channel Configuration
Optimized Channels - The airFiber AF‑11FX can use single (SISO) or bonded (MIMO)* channels, depending on your specific licensing requirements. The AF‑11FX also features different channel width sizes to suit your deployment needs, and you can independently configure TX and RX channel frequencies.
Reconfigurable Duplexers - The AF-11FX features a unique modular duplexer design to suit multiple frequency configurations. Each AF-11FX radio can be configured to support any allowable frequency by simply changing the duplexers (sold separately) for high‑band or low‑band use in the 10.7 - 11.7 GHz allocation. Each duplexer has a low channel and a high channel that can be configured by simply reversing the position of the duplexer.
Highest Performance Value - The compact AF-11FX supports high-order constellations – up to 1024QAM – allowing it to deliver the greatest spectral efficiency in its class.
Advanced Engineering
Ubiquiti's INVICTUS™ 2 custom silicon and proprietary radio architecture are designed specifically for long-distance, outdoor wireless applications, providing superior performance, long-range capability, and higher delivered throughput.
Deployment Flexibility
Power Source Options - Support for PoE or DC power gives you the flexibility to power the AF-11FX separately from Ethernet traffic

PoE power can be supplied on the DATA port, using the provided PoE adapter.
DC power can be supplied using the terminal block.

Versatile, Ruggedized N-Type Connectors - N-connectors allow the AF‑11FX to be used with either the Ubiquiti AF‑11G35 antenna or a variety of commonly available antennas. Specially designed silicone boots provide a weatherproof barrier against dust and moisture.
Ubiquiti offers the AF-11G35 antenna, specially designed for the AF‑11FX radio, so that installation requires no special tools. The AF‑11G35 comes preconfigured with V/H polarization, and can be configured to support ± 45° slant polarization for improved noise immunity and Signal‑to‑Noise Ratio (SNR), dependent on regulatory region.
Specifications:
AF-11FX
Dimensions
327 x 112 x 86 mm (12.87 x 4.41 x 3.39")
Weight
2.260 kg (5 lb)
RF Connectors
(4) SMA Weatherproof:
TX 0, RX 0 (Chain 0) and TX 1, RX 1 (Chain 1)
(2) N-Type Waterproof, One per Duplexer
Power Supply
50VDC, 1.2A PoE Gigabit Adapter (Included)
Power Method
Passive Power over Ethernet Pins 1, 2, 4, 5 (+) and Pins 7, 8, 3, 6 (-) or DC Power Block
Max. Power Consumption
36W
Supported Voltage Range
38-56VDC
Automatic Transmit Power Control (ATPC)
Yes
Mounting
Integrated Pole Mount Included
Oversized Rocket Mount Compatible
LEDs
(8) Status LEDs:
Data Port Link/Activity
Management Port Link/Activity
MIMO Mode
RF Link
(4) Autoscaling Signal Strength Bar Graph
Operating Temperature
-40 to 55° C (-40 to 131° F)
Certifications
CE, FCC, IC
AF‑11FX Networking Interface
Data Port
(1) 10/100/1000 Ethernet Port
Management Port
(1) 10/100 Ethernet Port
AF‑11FX System
Processor
INVICTUS 2 IC
Maximum Throughput
1.2+ Gbps
Maximum Range
300+ km
Encryption
128-bit AES
OS
airOS® F
Wireless Modes
SISO/MIMO
Latency - Full Duplex Mode
less than 200 µs at Full Throughput
MTU (Maximum Transmission Unit)
Up to 9600
AF‑11FX Radio
10x (1024QAM)
18 dBm
8x (256QAM)
21 dBm
6x (64QAM)
24 dBm
4x (16QAM)
30 dBm
2x (4QAM)
30 dBm
1x (QPSK)
30 dBm
AF‑11FX Duplexer
Low-Band Duplexer
Low Channel: 10.700 to 10.955 GHz
High Channel : 11.200 to 11.445 GHz
High-Band Duplexer
Low Channel : 10.940 to 11.200 GHz
High Channel : 11.440 to 11.700 GHz
Pricing Notes:
Pricing and product availability subject to change without notice.
Ubiquiti airFiber
airFiber Series
AirFiber 11FX High Band Duplexer Accessory
#AF-11FX-DUP-H
Our Price: $199.00
AirFiber 11FX Low Band Duplexer Accessory
#AF-11FX-DUP-L
Our Price: $199.00
AirFiber Dish, 11GHz, 35dBi
#AF-11G35
Our Price: $379.00