Ubiquiti airGateway Pro

Works Seamlessly with Existing airMAX CPE Deployment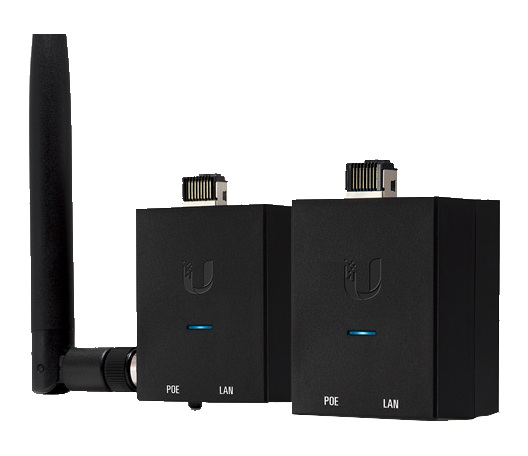 Ubiquiti Products
airGateway Series
Ubiquiti airGateway Pro Dual Band
#AMG-PRO
Our Price: $39.00
Click here to jump to more pricing!
Overview:
The airGateway™ is an affordable product with a compact form factor. It simultaneously connects indoor client devices and powers the outdoor CPE (Customer Premises Equipment).
The airGateway is available in three different models:
airGateway Standard 2.4 GHz model with an internal antenna
airGateway-LR Standard 2.4 GHz model but includes an external antenna for extended range
AMG-PRO Dual-band (2.4 or 5 GHz) model with improved range and performance
In the diagram on the right, the airGateway supports multiple functions:
Acts as an indoor wireless device connecting multiple wireless clients
Connects to a switch to support wired clients
Powers the airMAX CPE on the roof
Network Modes
The airGateway can operate in any of these network modes to meet the needs of your network:
SOHO (Small Office/Home Office) Router
Router
Bridge
Wireless Modes
The airGateway supports these wireless modes to fulfill your wireless requirements:
Access Point mode to function as the center of your wireless network
Station mode to extend your wireless network
Such versatile functionality makes the airGateway extremely convenient and economical to deploy.
Power Options
The airGateway is compatible with Ubiquiti PoE Adapters featuring 24V, 0.5A or 15V, 0.8A.
ESD/Surge Protection
The airGateway provides an additional ±24kV of Ethernet isolation for built-in protection that lessens the risk of ESD or surge damage to your devices.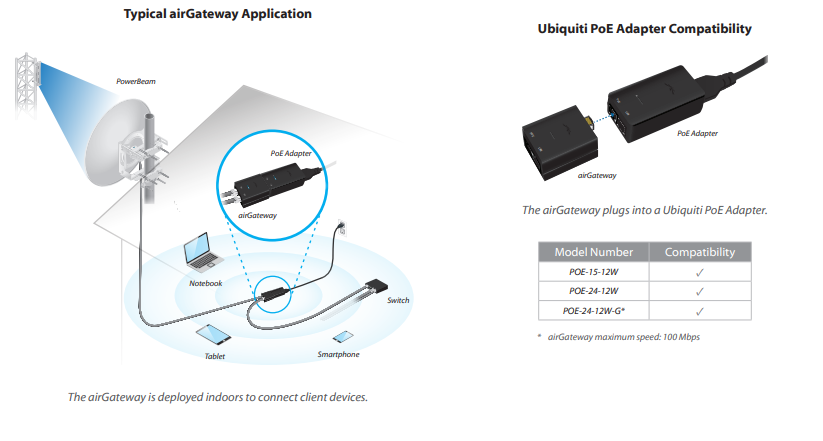 Specifications:
UVC-G3-PRO
Dimensions
Body
Base

Ø 51.38 x 41.97 mm (Ø 2.02 x 1.65")
Ø 36 x 17.3 mm (Ø 1.42 x 0.68")
Weight
Body
Base

65 g (2.29 oz)
31 g (1.09 oz)
Networking Interface
802.11 a/b/g/n, 2.4 GHz/5 GHz Dual-Band Wi-Fi
Sensor
1/3" 4-Megapixel Sensor with WDR
Lens
EFL 2.7 mm, f/2.2
Night Mode
IR LEDs with Removable IR Cut Filter, Built-in Light Sensor
Microphone
Yes (with Microphone Volume Control)
Button
Factory Reset Button
Power Supply
AC Adapter or Instant PoE Adapter (Included)
Maximum Power Consumption
IR LEDs On: 3.5W
IR LEDs Off: 2W
Mounting
Magnetic Base/Wall/Table
Operating Temperature
0 to 35° C (32 to 95° F)
Operating Humidity
20 - 90% Noncondensing
Video
Video Compression
H.264
Resolution
1080p Full HD (1920x1080)
Maximum Frame Rate
30 FPS
Image Settings
Flip, Brightness, Contrast, 50/60 Hz Flicker Reduction, WDR, Hue, Sharpness, Saturation, Noise Reduction
General
Viewing Angle
LDC Off
LDC On

124° (H), 65° (V), 150° (D)
92° (H), 60° (V), 100° (D)
Supported UniFi Video Version
UniFi Video 3.8 (or Newer)
UniFi Video System Requirements
64-bit Microsoft Windows 10/8/7, Ubuntu 14.04 or 16.04, or Debian 7.0 System with an Intel or Compatible 1.86 GHz (or Above) Processor and a Minimum of 4 GB RAM
Pricing Notes:
Pricing and product availability subject to change without notice.
UniFi Video G3 Micro Series
Ubiquiti airGateway Pro Dual Band
#AMG-PRO
Our Price: $39.00